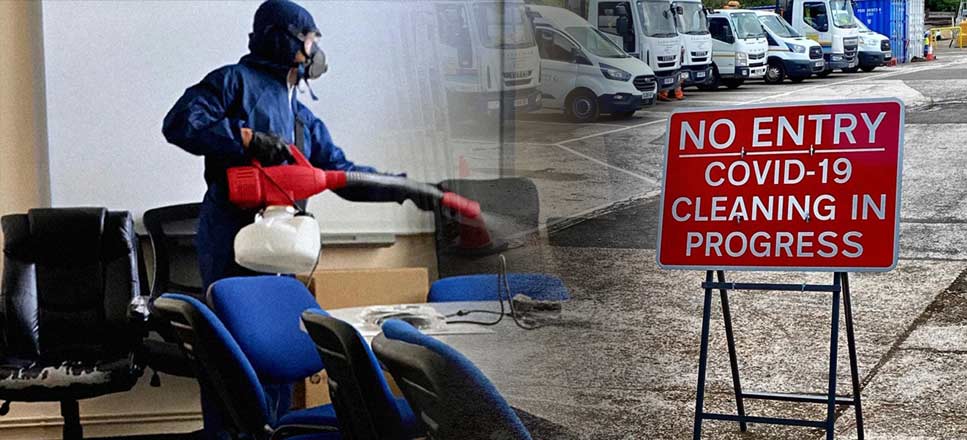 Chevron TM Introduces New COVID-19 Decontamination and Deep Cleaning Services
A new specialist COVID-19 sanitisation and cleaning service has been developed for the highways sector that can replace daily cleaning regimes and give up to 30 days protection.
Using government guidance, the Chevron Highway Services Division is now offering the specialist COVID-19 sanitisation service for its highways clients covering assets including office buildings, factories, vehicles and plant that have either been already affected by a confirmed case of Coronavirus or if there is a need to take preventative or precautionary measures.
This forms part of an overall and comprehensive COVID-19 sanitisation and cleaning process designed to give confidence to employers and their workforce, many of whom have continued to work throughout lockdown or have recently returned to work. Employers have a duty of care to safeguard the wellbeing and mental health of their employees as well as keep those that visit their premises safe.
Chevron TM's new cleaning services will help employers to demonstrate to staff and customers that they have pro-actively taken effective measures to mitigate both the physical and psychological health risks of COVID-19.
As part of this service we are using the V2 Viricidal product - a professional super antiviral disinfectant - which has a powerful formulation designed to kill a range of pathogenic viruses in under five minutes including COVID-19. The formula is safe to use on all surfaces and is non-hazardous, non-toxic and bleach free. When used as directed, it leaves all treated surfaces safe for human contact.
"The product we are using as part of this process protects so much more than COVID-19, it kills viruses and bacteria including E. coli, so is vital as part of a well-planned sanitisation and cleaning regime. Having used it on our offices, depots and vehicles, now we want to offer this service to our clients to help keep everyone at work, safe and well" said Steve Pope, Regional Director at Chevron TM.
When undertaking cleaning operations, Chevron TM's specialised technicians first identify the high-risk areas. These are then targeted for spraying and, if desired, a scheduled spraying programme can be developed to ensure that surfaces remain sanitised.
Alternatively, reactive decontamination can be used for areas that are known to be contaminated or fogging for delicate areas or surfaces. Every team is provided with enhanced PPE, including suits and masks, to provide high standards of cleanliness and protection. Sign boards with the date of the last clean and next upcoming treatments can also be installed in the area, giving staff and visitors peace of mind.
Fogging is a highly effective method of applying the viricidal product. The fogging machine generates a mist of extremely small droplets of a disinfectant liquid which fall in places that would otherwise be difficult to reach using conventional methods. The application of disinfectants and biocides using this method can significantly reduce the number of pathogens both on surfaces and in the air.
Fogging also reaches a wider range of surfaces than manual cleaning, including textiles and protects against 99.99% of germs and can last for up to 30 days. William Sheldon, Site Supervisor at Volker Highways has already used the new Chevron TM cleaning service, he said: "The team mobilised very quickly and has been doing an excellent job for us. We needed to respond quickly to reassure the public, staff and our client that decisive action was being taken on their behalf. The decontamination service has been an important component of our strategy. We are 100% happy that when our teams are at work, they will be 100% safe."
Read our brochure here: https://bit.ly/2FbFR93
For more information about COVID-19 decontamination and deep cleaning, please contact: Steve Pope, Regional Director, Chevron Group @ steve.pope@chevrontm.com
Visit our COVID-19 Specialist Services page here: https://www.chevrontm.com/work-and-play-zone-safety