Are you a school leaver or just looking to retrain? Our apprenticeship programmes are a fantastic way to kick-start your career in a wide range of disciplines. Chevron TM's apprenticeship programmes will give you the opportunity to earn while you learn, while gaining invaluable work experience, developing new skills, building a career, and gaining a recognised qualification.
Apprenticeship opportunities
We partner with different training providers which enables us to offer a wide variety of highly-valued apprenticeships, including construction, marketing, bid writing, administration, ESG and HR to name but a few.
Our Apprenticeship schemes start at level 2 for those with no academic qualifications, to Degree and Masters level (4, 5, 6 and 7).
Apprenticeship benefits
As an apprentice at Chevron Traffic Management you'll be earning a wage from day one, and have access to all of the great company benefits afforded to all other members of staff, including:
25 days' holiday plus bank holidays and one extra day for your birthday
Company pension – worth £900 on average per year
Access to The Academy, our internal training and career development portal
Employee Assistance Programme
Refer A Friend Scheme of £750
Discounts and rewards – saving an average of £400 per year
FAQs
What are the entry requirements?
You will need GCSE grades 9-4 (A-C) or equivalent in English, maths and one other.
How long does an apprenticeship last?
The duration of an apprenticeship depends on your chosen programme. They range from 12 months to three years.
Who can apply for an apprenticeship?
Anyone 16 years of age or over can apply for an apprenticeship and there is no upper age limit.
What benefits would I get?
You will have access to a range of company benefits including discounts on hundreds of retailers via our rewards scheme, 25 days' annual leave plus a day for your birthday, plus much more.
Will I receive additional training?
In addition to your apprenticeship programme, you will be supported with any further training you require to advance your career.
To apply to kick start your career and become our next apprentice, get in touch today.
Apply for apprenticeship programme
Find out about some of Chevron TM's apprentices – read their stories below.
Simon Barton, LGV Apprentice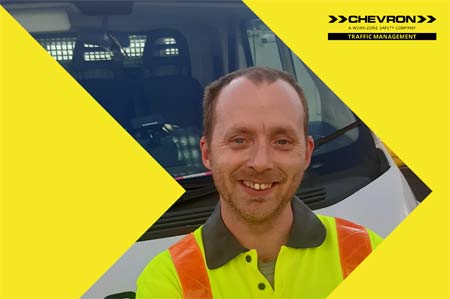 "I made the move to Chevron TM 14 months ago in October 2020 after being made redundant from my previous role in armoured security, due to the pandemic. Through friends who already work in the business it was suggested to that I think about a career change and look in to traffic management. I applied and was successful in getting a role as a trainee and, to date, have taken my Temporary Traffic Management Basic Course (TTMBC) and 12AB theory. In addition, I have also been upskilled to work in the Sign Shop and I look after vehicle defects and arrange repairs.

I was approached by my depot manager to see if I would like to apply for a place on the LGV apprenticeship programme as there was a gap in trained HGV drivers in the depot and I had shown the right behaviours and aptitude to take on the course. I was really happy to be offered the opportunity and relished the challenge of learning a new skill.

By completing the apprenticeship and qualifying to become a Class 2 HGV driver, this will not only assist the depot but will be of great value to the business.

Chevron TM is a great place to work; I enjoy the variety of jobs that I get to assist with and no two days are the same. Taking part in the apprenticeship is a great opportunity and I'm really enjoying the journey it's taking me on." (February 2022)
Sam Gilbert, LGV Apprentice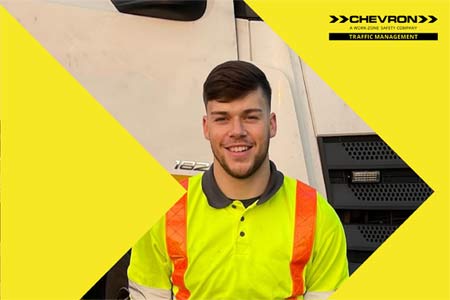 "I started my journey in traffic management in July 2020 working for an agency. I moved to Chevron TM in March 2021 as a trainee after speaking to a family member who already works at Chevron. They had told me about the company and the investment and development that Chevron makes in their employees, which I saw from my first day. Since joining the business, I have qualified as a 12AB operative, which has helped me increase my knowledge of traffic management and boosted my confidence.

I was asked to apply for the LGV apprenticeship in July 2021 and was keen to do it as this would give me an additional skill set and HGV courses are very sought after. In addition, it would also give me further qualifications in maths and English. I recently passed my Hazard Perception test and theory with a score of 91/100 and am looking forward to receiving dates for my practical driving test.

I'm really enjoying the course. It's given me the opportunity to meet other ops across the business and we are well supported by First for Apprentices and Chevron TM. It will be a great achievement to gain my Class 2 HGV licence and enable me to look to progress within Chevron TM." (February 2022)
Jordan Hosey, LGV Apprentice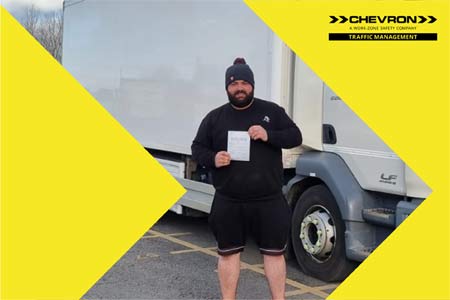 "I'm based at our Somerton depot in the South West. I started my career in traffic management seven years in 2015 ago and moved to Chevron TM in June 2021. I'm a qualified 12 AB high-speed operative and also hold all tickets for traffic lights and low-speed jobs.

I joined Chevron as I'd heard great things about working for the company, and also I have some friends that currently work here and had recommended it as a great place to work.

I put my name forward for the LGV apprenticeship as I could see what an amazing opportunity it is and it could help me gain my HGV license and learn in a supported environment. I'm always up for a challenge, and I wanted to push myself to go further within the company.

Since starting the apprenticeship six months ago in September 2021, I've completed my Hazard Perception test and theory, only dropping six marks in the test. And in January 2022, I successfully passed my HGV Class 2 driving test and did not incur any minors, which in the words of my instructor is unheard of.

I'm proud of my achievements so far and will continue to push myself to the end of the programme. I'm looking forward to putting the licence to good use in my daily job and supporting the Somerton depot and Chevron TM." (February 2022)
Alex Reid, Design Technician Apprentice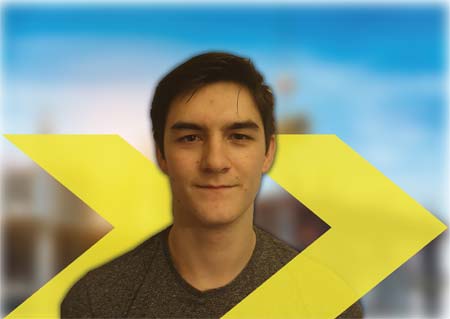 "I am currently six months into my two-year apprenticeship with Chevron Group, who are also supporting me to study for a level 3 in BTEC Building Construction, which enables me to earn while I learn!
Studying a construction course alongside on-the-job training with Chevron allows me to gain more knowledge about the construction industry and hopefully will lead me to more paths in my future career.
I fully recommend anyone considering an apprenticeship with Chevron as they have given me the tools to succeed, and gain skills and experience whilst becoming confident in my role. On top of this, I personally feel very happy about choosing this route as my co-workers are very helpful and supportive." (February 2021)
Bethany Gregg, Bid Writer Apprentice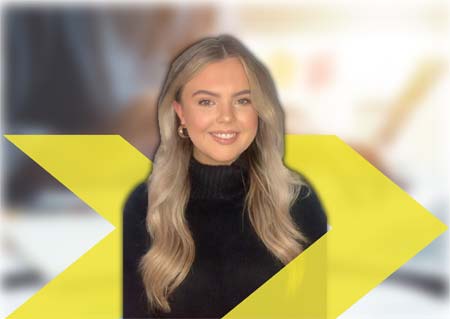 "I have worked with Chevron TM for over a year now as an Apprentice Bid Writer in the North having started in January 2020 alongside studying my JGA Bid and Proposal Co-ordinator course. I have since gained amazing knowledge and experience within the Bid Team, especially through my manager Jess Adams, who always provides endless support and encouragement throughout my apprenticeship.
Chevron TM has provided me with so many opportunities that I have never had before, including winning my first quality submission, working with written proposals for large projects, and meeting an incredible team who are brilliant to work and learn alongside.
I would highly recommend Chevron TM to future apprentices – they go above and beyond to provide you with plenty of opportunities, skills, and confidence, and have helped me with an amazing career path that makes me so excited for the future." (February 2021)
Jack Simons, Digital Marketing Apprentice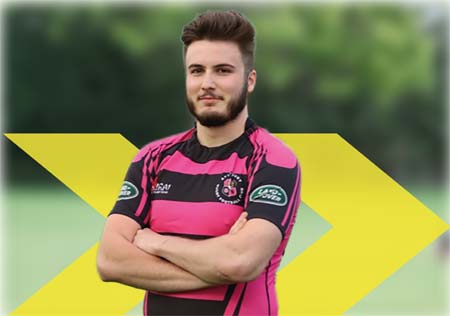 "I joined Chevron Group in September 2020 and am studying Level 3 in Digital Marketing. In such a short space of time I have learnt so much from the course, the business and have developed as a person as well.
It's intense and fast-paced but always fun and rewarding. I'm working on a wide range of digital campaigns and content creation to support the Traffic Management business and the work they do across the UK.
The team around me have ensured that I have had a warm welcome and have been amazing in supporting me as I venture through the apprenticeship and establish myself in my new career. I would 100% recommend anyone who is considering the apprenticeship route to choose this path." (February 2021)
Steph Berwick, Improvement Specialist Apprentice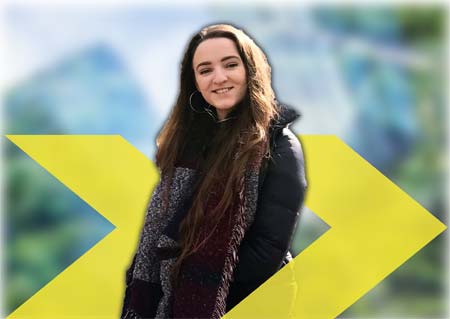 "I joined Chevron as an ESG Analyst in 2020 and was then enrolled in a Level 5 Improvement Specialist apprenticeship with CQM. The course lasts 18 months and revolves around the fundamental
concepts of Lean Six Sigma, focusing on how these tools can be implemented to improve business processes and better deliver value to the customer.
The apprenticeship is well aligned with my role, given that process improvement and sustainability often go hand in hand. I am very keen to use this new knowledge from my apprenticeship to help us work more efficiently and sustainably.
One of the things I admire about Chevron TM is its commitment to investing in its people, as they recognise that it is us that makes a business great. I feel very privileged to work with such a fantastic and supportive group of people and would recommend it to anyone and everyone!" (February 2021)
Wayne Toft, Driving Goods Vehicles Apprentice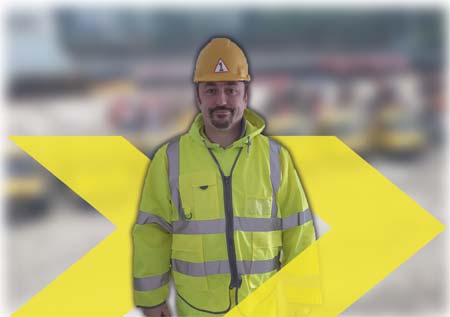 "I have been working for Class One, who are part of the Chevron Group, for 18 months now and there are never two days the same. I thoroughly enjoy all the different tasks to carry out across the country and this apprenticeship will enable me to develop my career further. It is also quite an interesting period becoming part of the Chevron Group. My colleagues and I are proud to be a part of this great traffic management family." (February 2021)
To find out more about Apprenticeships at Chevron TM, please complete our Contact Form and select 'Joining the Chevron Team'