Chevron TM has been providing high-speed traffic management across the UK's strategic road network since 1997. With depots in 40 locations and over 1,000 employees, Chevron TM has the resources, expertise and local knowledge required by clients, such as National Highways (formerly known as Highways England), to provide traffic management services.
Chevron TM is the country-leader for high-speed works offering a wide variety of traffic management solutions enhanced by innovative digital technology. We provide technical advice, expertise and support, covering:
Sector 12A: static temporary traffic management on motorways and high-speed dual carriageways where temporary road markings are not required.
Sector 12B: static temporary traffic management on motorways and high-speed carriageways for schemes incorporating contra-flow operations and temporary markings.
All works are supported by Chevron TM's traffic management CAD drawings and plans with full risk assessment and method statements that help reduce any error, increase safety and minimise costs. In addition, Chevron TM conducts random, on-site quality checks to maintain quality consistency and delivery excellence.
Our full portfolio of high-speed traffic management solutions can be tailored to meet every type of need and includes:
Narrow lane systems
Contraflows
Tidal flows
Road closures and diversions
Static and mobile off-peak land closures
Convoy systems
INNOVATING IN HIGH-SPEED TRAFFIC MANAGEMENT
Chevron TM has pioneered a new way of installing, maintaining, switching, or removing traffic management on highways which benefits contractors, road workers and road users. Our new approach, the Enhanced Mobile Carriageway Closure (EMCC):
Removes the need for rolling roadblocks
Reduces delays to works start times
Reduces the installation time
Increases the working window
Removes the need for diversions
Reduces carbon emissions
Improves efficiencies
Find out more about our Enhanced Mobile Carriageway Closure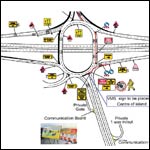 Hanson and Bedford Borough Council
Traffic management operatives were digitally alerted to incursions or closure breaches during the resurfacing works of three high-speed roundabouts on the A6 from the A421 to Wilstead. The alerts allowed them to take immediate and appropriate action to remove themselves and the workforce from potential risk.
Download the Hanson and Bedford Borough Council case study (PDF) to find out more >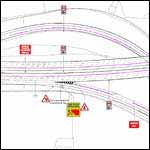 Kier Highways
When Kier Highways was awarded the 4-year project to upgrade the A13 in Essex from two to three lanes, they selected Chevron Traffic Management to help scope and implement the traffic management requirements and site's safety initiatives.
Download the Kier Highways case study (PDF) to find out more >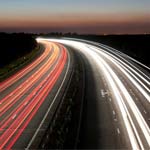 Balfour Beatty
To enable Balfour Beatty to upgrade the M4 to a Smart Motorway, our Professional Services team provided them with a range of temporary traffic management solutions. This allowed Balfour Beatty to accelerate the works, while reducing costs and ensuring the safety of the travelling public as well as the on-site workforce.
Download the Balfour Beatty M4 case study (PDF) to find out more >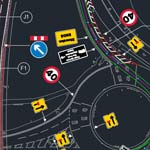 Balfour Beatty
Chevron TM worked with Balfour Beatty to improve the A2 Bean and Ebbsfleet junctions in Kent. Traffic management services provided included swept path analysis, topographical surveys, design, drawings, safe working zone provisions, phasing strategies, preparing the TTRO application and final traffic management design.
Download the Balfour Beatty A2 case study (PDF) to find out more >
View all Chevron TM case studies

Digital services

Professional services

Traffic management equipment