Chevron TM offers a comprehensive and independent consultation and planning service for all work-zone safety projects that goes beyond temporary traffic management. As a recognised industry leader, we advise on schemes, from concept to completion, providing you with confidence and reassurance that your project will be delivered in a safe environment.
Chevron Traffic Management Design
Successful traffic management begins at the design stage. From simple to complex schemes, our in-house design team offers a holistic approach to traffic management planning. We provide all associated designs and drawings, to include temporary road markings and vehicle restraint systems, to create a robust and fully integrated design.
We can also advise on any Temporary Traffic Regulation Orders (TTROs) or Departures from Standard that are required and assist with producing and submitting the required paperwork for these. Every design is fully compliant with the applicable design standards, including the New Roads and Street Works Act, Traffic Signs Regulations and General Directions, Traffic Signs Manuals and Design Manual for Roads and Bridges (DMRB).
Our particular specialism is ensuring that the Traffic Signs Manual Chapter 8 requirements are fulfilled for high-speed projects, having expertise in both the design and operational considerations of temporary work zones.
Temporary vehicle restraint systems design
Vehicle restraint systems (VRS), also known as safety barriers, must be installed in compliance with DMRB CD377 and tested to EN 1317 in order to be considered safe for use on UK roads. This applies to both permanent and temporary safety barriers.
Without the right knowledge, temporary safety barrier installations can be substandard, resulting in an increased risk to both site staff and road users. Our engineers can help design and specify the right temporary safety barrier that meets or exceeds the minimum standards in DMRB CD 377 standard (formerly TD 19/06). After identifying your needs, we will provide a Road Restraint Risk Assessment Process (RRRAP) for the designed restraint system, as well as a complete Manual of Contract Documents for Highways Works (MCDHW) Appendix 4 for inclusion within your project specification.
Swept path analysis
Swept path analysis is often critical to confirming the final site layout and geometry for planning applications, maintenance activities, or temporary works. Whether you need to check that an abnormal load can be accommodated, ensure adequate highway access or egress, or analyse the radii of a proposed junction, Chevron's engineering consultants can help.
Using the latest industry standard software, we will provide you with accurate swept path analysis plans that demonstrate the manoeuvrability of a vehicle within the desired area and help you overcome any challenges that the site poses. With a large library of standard vehicles, our experienced engineers ensure precise results for even the most complex situations.
Traffic modelling
Whether you need to model a proposed junction improvement, optimise traffic signal timings, forecast the impact of future traffic demand, or anything else traffic-related, talk to our team of traffic modelling engineers. We have experience with industry standard traffic modelling software such as ARCADY, PICADY, and others, depending upon the type of traffic modelling required.
We work with you to understand exactly what you need and to develop a plan that will ensure the right outcome, such as securing planning permission or evaluating different proposals against agreed criteria. Our team of expert traffic modellers can help with modelling for roundabouts, priority junctions, traffic signal controls, micro-simulation of networks, and pedestrian facilities.
Traffic engineering
Traffic- and transport-related issues can often be a difficult hurdle to overcome during the planning application process for new developments. Our traffic and transport planners have worked with a variety of public and private sector clients on planning applications for different types of land use. We can provide high-quality transport assessments, transport plans, construction logistics plans, and delivery services plans which support your planning application and help remove obstacles to development. In addition, we offer project evaluation and research on traffic-related matters.
Road safety audit procurement and organisation
As part of our traffic engineering service, we offer a road safety audit consultancy. We work with trusted partners who can provide high-quality road safety audits either as a standalone service or as part of a larger traffic engineering project. This gives our clients the ease and convenience of working with one consultant while ensuring that all aspects of the project are managed and kept on track by an experienced engineer who is familiar with the works.
Workplace transport risk assessments and design
Employers have a legal duty to ensure the safety of all employees on their sites. However, this also includes visitors to the site, such as contractors or delivery drivers. Our transport engineers can help identify the risks presented by the movement of traffic around your workplace and offer practical recommendations for controlling them. Our team will visit your site and work with your staff to identify traffic safety issues (both vehicle and pedestrian) and create a detailed report of their findings, as well as recommended mitigation measures, following the latest guidance and safety standards.
Professional Services case studies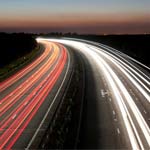 Balfour Beatty
To enable Balfour Beatty to upgrade the M4 to a Smart Motorway, our Professional Services team provided them with a range of temporary traffic management solutions. This allowed Balfour Beatty to accelerate the works, while reducing costs and ensuring the safety of the travelling public as well as the on-site workforce.
Download the Balfour Beatty M4 case study (PDF) to find out more >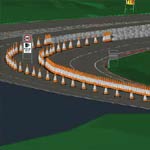 Costain
When Costain needed help preparing a GG104 safety risk assessment and 3D traffic management design as part of the M6 J21a-26 Smart Motorway upgrade project, they turned to Chevron TM for assistance. Our Professional Services team provided a swift and thorough response, ensuring that the temporary traffic management was optimised for all phases of the works.
Download the Costain case study (PDF) to find out more >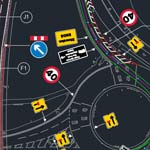 Balfour Beatty
Chevron TM worked with Balfour Beatty to improve the A2 Bean and Ebbsfleet junctions in Kent. Traffic management services provided included swept path analysis, topographical surveys, design, drawings, safe working zone provisions, phasing strategies, preparing the TTRO application and final traffic management design.
Download the Balfour Beatty A2 case study (PDF) to find out more >