Chevron offers a broad range of traffic control light systems that have been rigorously tested to help deliver safer work zones.
EVO pedestrian system
New evolution (EVO) traffic light systems have arrived and to much acclaim!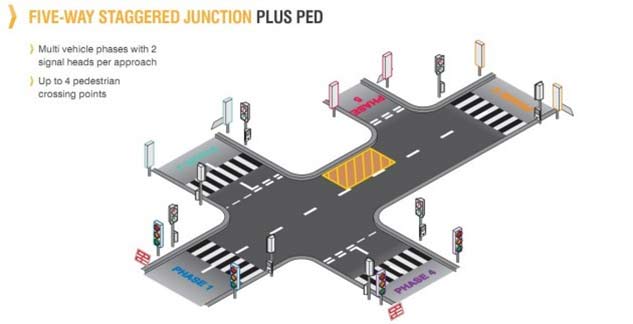 EVO Pedestrian control using portable traffic signals has finally created a safe solution for more complex sites where pedestrian AND traffic control need to be combined.
Approved to Highways Agency specifications TR2502B, TR2537A and TR2538A.
The EVO system has up to 5 vehicle phases plus a pedestrian facility. They offer a range of features that includes.

Quick deployment and setup
Fully radio linked system, no interconnecting cables
Up to 4 pedestrian crossing points
Supports a large range of roadwork layouts
Automatic Communications Recovery System
Battery voltage readings for each base unit
Variable timing options
Phase linking facility

Portable pedestrian crossing traffic lights
A cable-less pedestrian crossing system is ideal for safely maintaining pedestrian safety on sites and events, let the specialists at Sun Traffic take care of delivery and set up of your complete system.
A reliable alternative to employing road safety marshalls, temporary pelican-type pedestrian crossing traffic signals offers maximum pedestrian site safety. Being recognisable and similar looking to permanent/fixed pedestrian facilities, road-user familiarity is a real advantage and enhances site-safety. Fully approved to TR2503B and designed in accordance to TSRGD.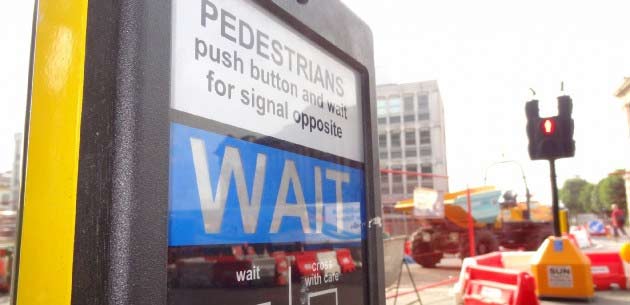 Cable-less battery powered traffic lights
Chevron were amongst the first to introduce cable-less traffic signals to the UK's roads in 1999. Consequently, we have the most experienced team in the UK for cable-less temporary traffic lights.
These lights are secure and very quick and safe to set up. The advanced datum-point cable-less light systems are battery powered using efficient LED lights that offer long run times between battery charging and changing.
Type Approved equipment to the very latest issues of all three Highways Agency specifications TR2502B, TR2537A and TR2538A.

Key features include:
Datum point controllers
Night dimming to minimise battery usage
Cable-less, zero noise
Pedestrian Heads and Phases Incorporated
22 head systems or more!
Zero emissions
Full (legendary) 24 hour call-out service for peace-of-mind and site safety.
Up to 10 days continuous running.
Mains electric traffic lights
Designed for fixed sites where mains power is available this lighting system is the most cost-effective system for hire.

Key features include:
Safety (step-down Transformer included for site-safe 110v)
Reliability
Cost-effective
Full 24 hour call-out service for peace-of-mind and site safety.
Tandem cable-less diesel lights
The unique tandem trailer splits into 2 units for this easy 2 way portable traffic light solution. Radio linked removes the need for cables. Rapid deployment and set up means no "spare trailer syndrome". Secure and powered by a low emission diesel power supply. A real alternative for construction site use.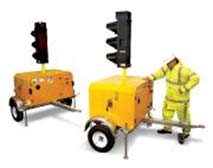 Diesel lights
Still the preferred option for many clients and sites. Our cable-linked, silenced diesel-powered portable lights are safe, reliable & operate at exceptionally low noise levels which is ideal for use in residential and other built up areas. Complies to TR0111 spec (formerly MCE0111 spec).
Auto Stop/Go boards
The use of automatic Stop/Go boards not only increases operator safety when compared with using traditional Stop/Go signs, as an operator is not required to be present on the road, but you also save costs because of this.
Its operations is actually on-site with a hand-held, radio remote controller that can be easily transported and operational within minutes.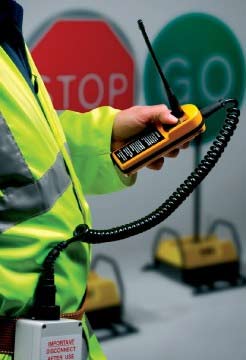 Equipment hire