Chevron Traffic Management collaborates with digital partner Highway Resource Solutions (HRS) to integrate digital technology into our traffic management plans through access to real-time information.
Safety is at the core of everything we do at Chevron TM. As specialists in traffic management, we employ the latest technological and digital solutions to ensure that each project is delivered efficiently and to the highest standards of safety.
Whether you're looking for enhanced safety or customer service, improved operational management, or increased reporting accuracy, digital and smart work zones can provide many benefits.
Determining which digital solutions are suitable for your projects can often be a daunting task. Our team of digital traffic management specialists will work with you to identify your needs and the right digital services that will deliver added value to your work zones.
Using a structured approach, our consultants collaborate with you to understand, define and solve your challenges with technology, digitisation, information management, Building Information modelling (BIM) and safety.
As specialists in the provision of digital assets and services to the rail, utilities, road and events industries, requiring temporary infrastructure support, HRS products can make your work zone safer, increase efficiency and productivity, and reduce risk to life.
We do this through:
Digitally enabled traffic management equipment for remote road closure monitoring
Advance warning systems to alert workforce on road breaches
Effective customer systems that deter the travelling public from entering restricted work zones
To find out more about our digital services through our digital partner HRS, visit the HRS website.
Digital Services case studies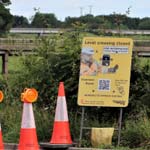 Network Rail
When Network Rail had previously carried out essential maintenance works at the Thorpe Bank level crossing near Doncaster it had led to high levels of hostility and threatening behaviour from the general public to their workers. Eager to avoid a repeat, Network Rail approached Chevron TM to implement a safe and cost-effective traffic management plan which could prevent incursions, protect rail workers and minimise interaction between rail workers and the general public. The solution was the creation of a digital enclosure using Intellicone® Portable Site Alarms, Customer Communication Terminals and CCTV, which resulted in zero threats or confrontations with the general public.
Download the Network Rail Thorpe Bank case study (PDF) to find out more >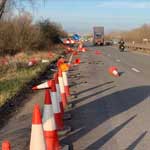 Highways England
When a taper strike on the A45 Chowns Mill Improvement Scheme took out 50 cones and eight sequential lamps, thanks to the deployment of Intellicone Smart Taper technology the TCSCO received and immediate alert. Within minutes an IPV was deployed and it took less than an hour to clear the carriageway of debris, reinstate the taper and ensure that the work force was once again properly protected.
Download the Highways England Intellicone Smart Taper case study (PDF) to find out more >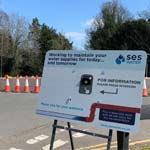 SES Water
When a burst water main on the A217 in Banstead, Surrey required a carriageway closure, Sutton and East Surrey Water (SES Water) turned to Chevron TM for help. We implemented a cost-effective digital traffic management solution to ensure the safety of their workforce, provide information to local residents and traffic, and reduce the impact on road users.
Download the SES Water case study (PDF) to find out more >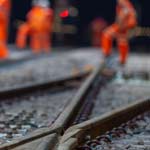 Network Rail
To combat the rising number of road closure breaches by the public – which have the potential for loss of life to the individual, workers or rail users – Chevron TM together with digital specialist HRS developed a bespoke safety system that helps reduce the number of incursions by alerting the workforce of any breaches so that action can be taken quickly. We also developed an enterprise planning system which helped improve back office efficiency.
Download the Network Rail case study (PDF) to find out more >