The Intellicone® Incursion Prevention & Warning System (IIPAWS) from HRS is a digitally-driven system designed to reduce work zone incursions and protect road workers from harm.
No matter how much care is put into creating a robust traffic management plan that protects the work force and keeps them safe, there is always the potential for an authorised breach into their safe work zone by a road user.
IIPAWS is a highly sophisticated, digitally-enabled device that sits on top of road cones, creating a digital layer of protection around a work zone to keep it safe. It is ready at all times to warn the work force of an incursion and can also sound an alarm.
IIPAWS can be placed anywhere around, in or near a work zone, including at access points, closure points and checkpoints.
Key benefits
Increased employee safety
Prevention of work zone incursions
Improved customer and road user safety
Employees protected from confrontation
Improved operational efficiency
Work access point
The point of access to a work zone can be the most vulnerable. Road users can unintentionally or deliberately breach a work zone putting themselves and road workers at risk. IIPAWS will alert workers of an incursion, giving them time to take evasive action. IIPAWS will also sound an alarm which, in many cases, will deter the errant road user and prevent the incursion happening.
Full closure point
At a full closure point, a worker is usually required to be present and watch over, however this increases their safety risk from unauthorised vehicles. With IIPAWS attached to road cones, and ready to alert the work force of any breaches, it removes the need from someone to be at the closure point, improving safety and reducing operational cost. If the closure is breached, IIPAWS will also set off an alarm to deter the road user from going any further.
Checkpoints
IIPAWS can also be used to create sterile areas between the start of a road closure and the work zone. In addition to providing a digital layer of protection, it removes the need for operatives within this area and allows for better management of resources. The alarm system can also deter an errant vehicle from proceeding towards the work area.
Best practice
IIPAWS is becoming a best practice standard for full carriageway and slip road closures and is used on both high-speed and low-speed roads. Many clients incorporate IIPAWS into their traffic management plans to meet CMD and Raising the Bar 27 standards.
IIPAWS is used by a range of clients to support essential traffic management plans. They have all reported accident prevention, reduced risk from incursions and improved operational efficiency.
Download our Intellicone Incursion Prevention & Warning System product sheet
Intellicone Incursion Prevention & Warning System case study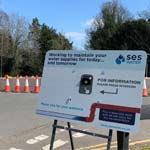 SES Water
When a burst water main on the A217 in Banstead, Surrey required a carriageway closure, Sutton and East Surrey Water (SES Water) turned to Chevron TM for help. We implemented a cost-effective digital traffic management solution to ensure the safety of their workforce, provide information to local residents and traffic, and reduce the impact on road users.
Download the SES Water case study (PDF) to find out more >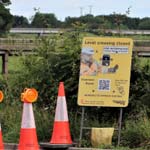 Network Rail
When Network Rail had previously carried out essential maintenance works at the Thorpe Bank level crossing near Doncaster it had led to high levels of hostility and threatening behaviour from the general public to their workers. Eager to avoid a repeat, Network Rail approached Chevron TM to implement a safe and cost-effective traffic management plan which could prevent incursions, protect rail workers and minimise interaction between rail workers and the general public. The solution was the creation of a digital enclosure using Intellicone® Portable Site Alarms, Customer Communication Terminals and CCTV, which resulted in zero threats or confrontations with the general public.
Download the Network Rail Thorpe Bank case study (PDF) to find out more >
View all Chevron TM case studies