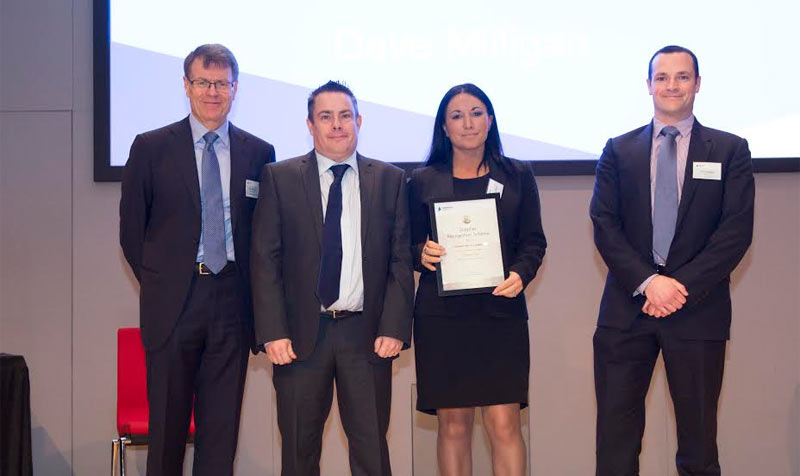 Success at Highways England Supplier Recognition Awards
Chevron celebrated success when awarded in two categories at the recent annual Highways England Supplier Recognition Scheme awards.
The scheme highlights the contribution made by Highways England suppliers who help modernise, maintain and operate the strategic road network in England. This year's awards attracted 40% more entries than in 2015, with 166 submissions across seven categories.
Chevron, the only tier 2 supplier this year to be shortlisted won the award for Building Capacity and Capability; given to suppliers that have developed their employees' skills and capabilities through delivery of Highways England contracts.
This based on our recruitment and training initiatives- succeeding in implementing a range of diverse employment strategies that are increasing our capability and capacity as a business, whilst also demonstrating aligned benefits to society and reducing unemployment.
Developing a programme with Rochdale Training to recruit young local people into our business and into the industry 
Working with British Forces Resettlement Services (BFRS) in the resettlement of Ex-Armed Forces Personnel
Working with Chance 2013 Ltd to help ex-offenders re-enter the job market
Chevron are also proud to be part of the Area 9 Team to be awarded for Supply Chain Management; given to suppliers that demonstrate Highways England's strategic agenda, values and principles through supply chains.
This was awarded to Kier Strategic Highways, Chevron Traffic Management, Towey Duffy, Aggregate Industries, WJ Group, Tripod Crest for collaboratively preparing and managing to start work on two multi-million pound schemes on day one of the new area 9 ASC contract
For enquiries contact Lisa Killinger- lisa@chevrontm.com