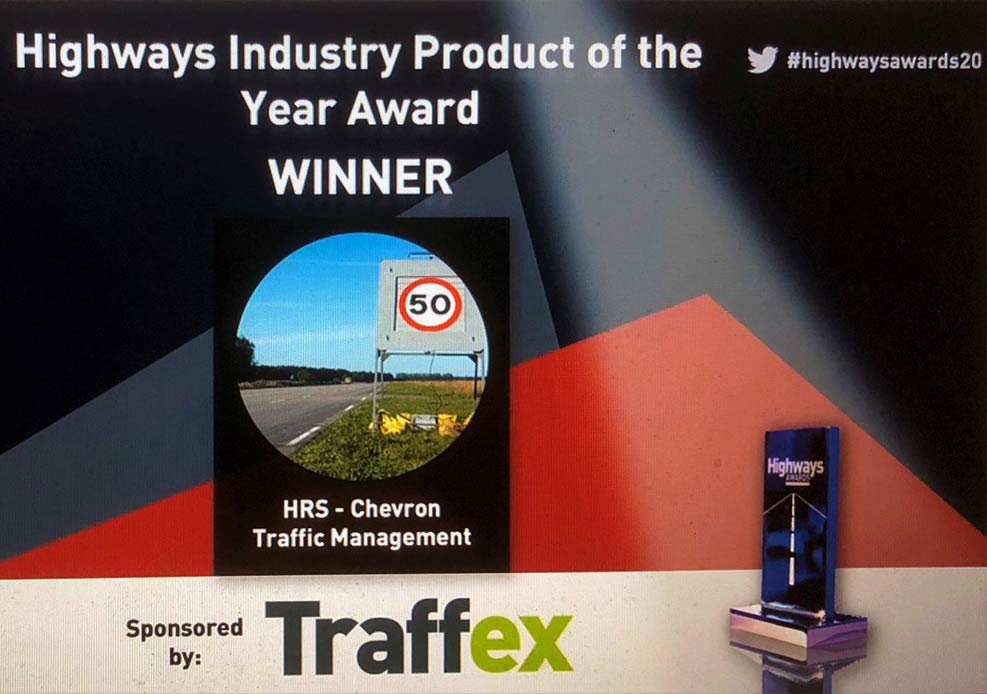 Smart sign wins product of the year award for Chevron TM and HRS
A pioneering new product developed by Chevron Traffic Management, in partnership with our digital services provider Highways Resources Services has been named Highway Industry Product of the Year.
SMART SIGN (now known as Dynamic Speed Sign) is a revolutionary speed sign which can remotely change the speed displayed at road works using a secure internet platform. It is a product which removes the need for operatives to be present to check or change speed signs, thereby reducing risk and improving safety standards. It also improves road user experience as speeds can be increased to 60mph when there are no workers present.
Speaking following the online awards ceremony, Matt Morphet, Chief Operating Officer, Chevron TM said: "We are delighted to win this award. I believe that 'SMART SIGN' will change the way schemes are delivered. It improves work zone safety, the customer experience and helps increase site productivity. It ticks all the boxes but what makes it really special is its simplicity. We have looked at what is already used across the industry and what the general public are familiar with and have improved it with innovative digital technology. It's simple, it's effective, and it's available."
Described by the judging panel as "a true example of innovation and collaboration," SMART SIGN has been used on projects including the M4, M62, M20 and M23 Smart Motorway Projects.
Roger Poeth, HRS Director, commented: "To win Highways Product of the Year is a huge achievement and is testament to the partnership between HRS and Chevron TM and our collaboration with Highways England and the wider industry with whom we engaged to ensure SMART SIGN meets the need of the industry. We initially trialled SMART SIGN on the M6 J2-4 SMP and it has since been used on a number of other highways projects. In total, Smart Signs have been operational for over one million hours on projects across our motorways network. I am honoured and proud to create an innovative product which will make such a positive impact on our industry."
For further information on Dynamic Speed Sign, contact Roger Poeth at Roger.Poeth@highwayresource.com