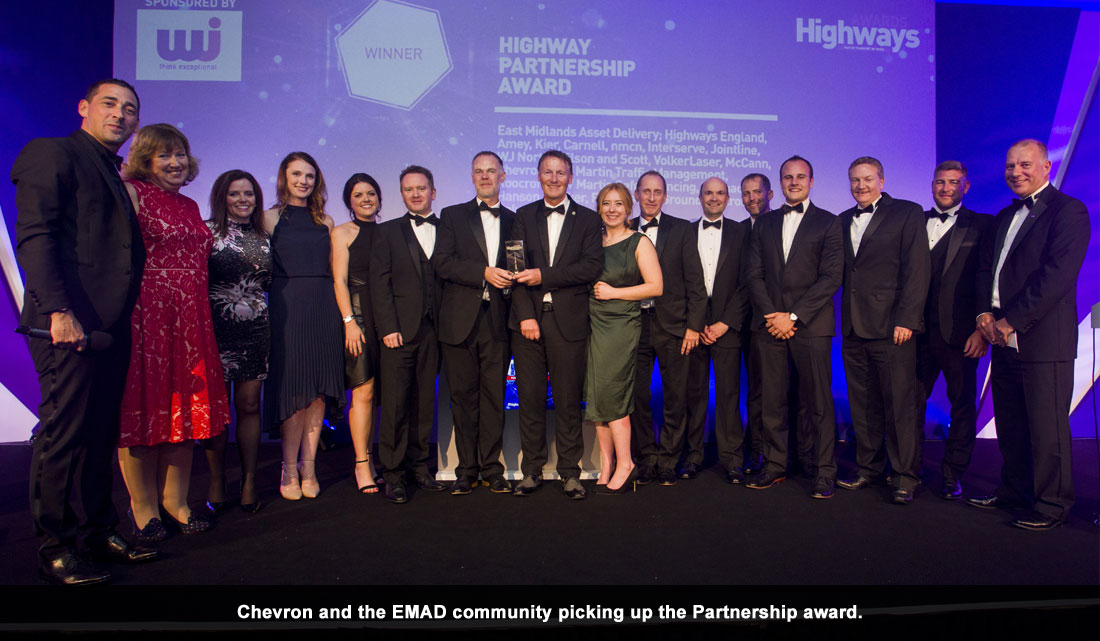 Highways Magazine Awards – Chevron and the EMAD team score a double
The winners of the 2019 Highways Awards were revealed on Wednesday 9 October in front of nearly 500 industry professionals at the Lancaster London.
A total of 14 winners, from organisations across the UK, received their awards from TV and radio presenter Colin Murray and the sponsors of each award.
Chevron and the EMAD team scored a double win at the Highways Magazine Awards. The team were out on force to celebrate alongside fellow members of the EMAD community after scooping the Highways Partnership and Judges Special Merit Awards.
Both awards were in recognition of the EMAD communities work in delivering the Highways England Area 7 contract.
Matt Morphet, Chief Operating Officer, said "To be part of the team receiving these awards is testament to all the hard work everyone in Chevron puts into the Area 7 contract to ensure its success. We're proud to be a part of this community."
Highway Partnership Award
The Highway Partnership Award is awarded to an organisation or highway authority that has driven or can demonstrate a collaborative approach designed to increase the benefits for society or its local community. This should be demonstrated by key performance indicators which test the robustness of the partnership and the positive outcomes.
Judges Special Merit Award
At the end of the judging process, the judges review all the entries which have impressed them the most. They consider the benefits to society as a whole, the improved safety to all road users or workers and the positive impact on the industry. The one entry which excels all the others in these areas wins this prestigious award. There is no need to enter for the Judges'' Special Merit Award 2019 as all submissions in the 12 categories are considered automatically.
For information contact Lisa Killinger, email lisa@chevrontm.com or phone 01844 354666