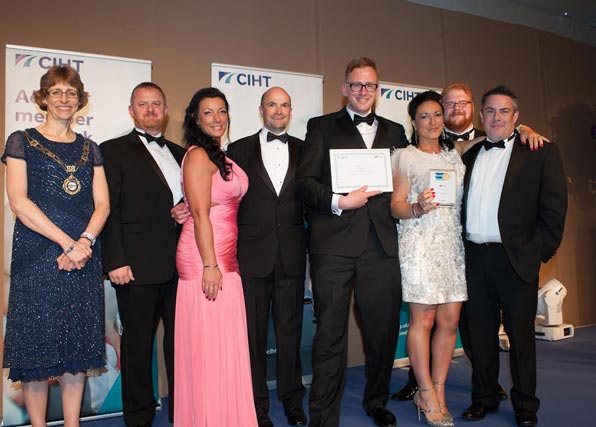 Chevron wins award for 'Skills Development' at the CIHT awards 2016
The 11 th annual CIHT Awards saw the outstanding achievements of those working in the highways sector rewarded and their work promoted as best practice to the industry. This year's awards saw a record breaking 194 entries from contractors, consultants and local authorities, from across the UK and beyond.
Chevron, awarded for 'Skills Development' has succeeded in implementing a range of diverse employment and training strategies to improve our workforce's core skills, whilst demonstrating aligned benefits to society and reducing unemployment; building a long-term trained workforce for our business, as well as the highways industry:
Local apprenticeship organisations: Working together to develop a unique programme to recruit young unemployed people living locally to depots to develop the next generation
Ex-armed forces personnel: Bringing immediate transferable and technical skills, considerable unrivalled experience from high pressurised situations to the highways sector
Employment of ex-offenders: This not only offers ex-offenders a smooth transition into employment, but provides them with training, as well as the potential to enjoy a long-term career. Such routes to employment are vital, as statistics from the Ministry of Justice show that the re-offending rate is lower for ex-offenders who enter employment compared to those who do not
In-house LANTRA Awards Training Centre: Chevron employs a full time Training and Quality Manager, who oversees an annual spend of more than £350,000 pa on Traffic Management skills, training and development
ClearTrack performance coaching: A long-term programme set to provide the senior management team, as well as delivery managers, area managers and supervisors, leadership and coaching support
Judges comments: Chevron has developed an innovative skills development programme to improve employee core skills and reduce unemployment. What is most striking about the initiative is the way it is engaging the community and a wide range of marginalised groups – unemployed and young people, ex-servicemen and ex- offenders – in a sustainable manner. The setting up of an in-house accredited training centre, achievement of a supplier award for building capacity and capability, all demonstrate the organisation's commitment to training, development and recruitment. It is encouraging to see a vision for long-term engagement with the community to augment expanding and developing the skills of its workforce, and attract new entrants, not only for its own benefit but for the benefit of individuals and the sector as well. The submission contains compelling evidence to support the impact of Chevron's visionary approach, endorsed by a supporting letter from the operations manager of the British Forces Resettlement Services.