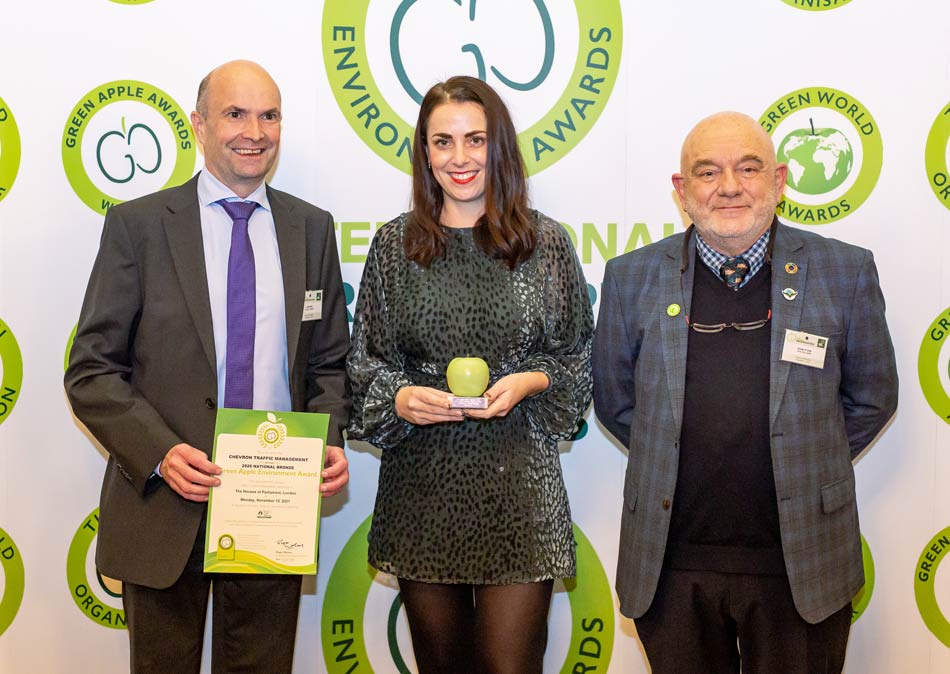 Chevron Traffic Management collects Green Apple award
Chevron Traffic Management is the proud recipient of a coveted Green Apple Environmental Award, having been recognised for its commitment to sustainability and environmental initiatives.
The company's Bid Director, Stuart Abram and Bid Writer, Jessica Adams, collected the award at a recent ceremony in London.
Speaking about the award, Stuart commented: "We are delighted to have received the Green Apple Environmental award which was specifically in recognition of our use of electric TSCO vehicles across our fleet. Chevron TM has been fully committed to ESG for many years and has introduced a number of significant sustainability initiatives to reduce our carbon footprint and help protect our planet for future generations."
Among the other environmental initiatives which the traffic management company has introduced is a partnership with ClimateCare to offset unavoidable carbon emission by supporting projects that decarbonise grid electricity in India and protecting a significant and vital carbon sink in the Gola Rainforest National Park, Sierra Leone. More recently, they have announced a commitment to set science-based targets.
"Action to resolve the climate crisis is becoming ever more urgent," adds Stuart. "At Chevron TM, we recognise that we need to set ambitious targets to take positive climate action. Therefore, we have committed to set science-based targets and are currently finalising our net zero strategy, which will be published in 2022. A key focus area for the Chevron Group is investing in innovative technology and digital solutions that aim to eliminate unnecessary carbon from existing temporary traffic management processes within the wider traffic management industry, and we are working closely with our digital partner, HRS, to do this."