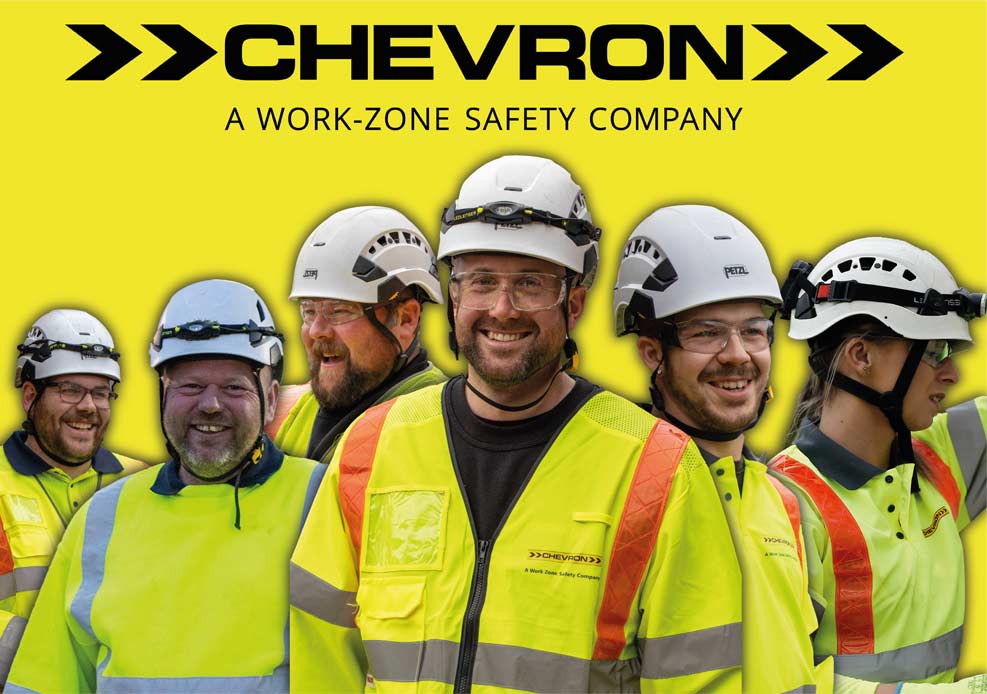 Chevron Traffic Management celebrates key milestone
Chevron Traffic Management Ltd has today (1 st December) completed a group reorganisation which will see the recently acquired Sun Traffic Ltd, TMS Ltd and Chevron Winchester (formerly R&W) Ltd businesses merging with Chevron Traffic Management Ltd to form a single harmonised traffic management business.
From 1 st December 2020, Sun Traffic Ltd, TMS Ltd and Chevron Winchester Ltd will trade as Chevron Traffic Management Limited and to celebrate the change, the business has launched new corporate branding.
Chevron Group CEO, Tim Cockayne commented: "Today marks a significant milestone for Chevron Traffic Management. We acquired Sun TM, TMS and R&W Traffic Management over the past 18 months and have been working hard to create a single organisation which maximises the expertise and experience in each individual business while delivering the same high standards of service to our customers. Today is the culmination of that work which also sees the launch of our new, refreshed Chevron brand."
The new legal entity, Chevron Traffic Management Ltd will now operate with a workforce of almost 1,000 highly trained and experienced employees and 27 depots across the UK.
"Chevron Traffic Management has the capacity, capability and more importantly the skills and expertise to deliver projects for clients across the UK," adds Tim Cockayne, "but what is really important for us is that we operate locally. Our depots and our employees are community based. We pride ourselves on the work we do and will continue to do within our local communities."
Chevron Traffic Management provides traffic management services within the high speed, local authorities, utilities, rail and events sectors.
"The acquisition of Sun TM, TMS and Chevron Winchester has enabled us to expand our geographical reach and to grow the sectors in which we operate," continues Tim Cockayne. "However, our focus will remain on our current customers and key clients. They will continue to receive the same level of service from their existing contacts within our business, but they will have access to our additional services including our innovative digital services."
Chevron TM is part of the Chevron Group of companies which include Highways Resource Solutions (HRS) Ltd, Class One Traffic Management Ltd and ACones Ltd.
For more details on Chevron TM, log on to www.chevrontm.com
For information contact Lisa Killinger email: lisakillinger@chevrontm.com tel: 01844354666