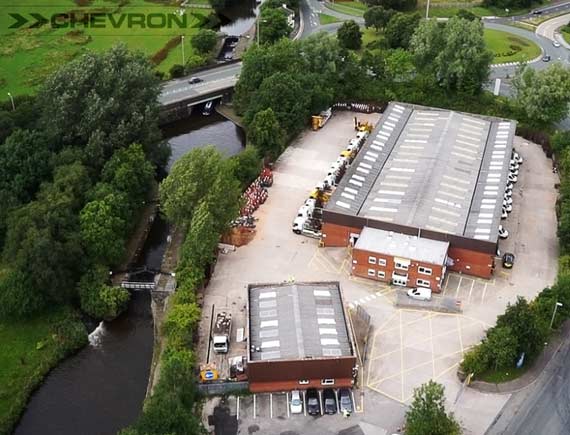 Chevron opens two new Traffic Management depots
It has been huge month of exciting change for Chevron as during July, we have relocated two of our main operating depots to bigger and better locations!
Firstly, the Chevron Systems depot- albeit still in Rochdale (Lancs) - has now moved to a new site.
As you'd expect from the largest operating Traffic Management depot of its kind in the UK, the new Rochdale depot boasts plenty of office space, meeting room facilities, a vehicle workshop for our on- site mechanics, training facilities, storage for at least 40-50 specialist Traffic Management vehicles and materials and vehicle maintenance and cleaning areas.
It is the perfect home for the 80 plus permanent staff running the operation on a daily basis.
The depot services various contracts; from street works (Cheshire East highways) to high speed motorway major projects (M60 Manchester Smart Motorways) and the Highways England Area 10 Asset Support Contract (ASC).
This Rochdale hub is a huge site and the sheer scale of the operation demonstrates the commitment and investment of Chevron into local areas and communities, as well as their highways contracts.
Secondly, the Chevron Highways depot has moved from Romsey to Thatcham (Berks).
The new depot replaces the old and out dated buildings at the Romsey site with new smart offices and meeting rooms as well as plenty of space for vehicles, workshop areas and storage.
The depot houses around over 50 permanent staff on site keeping things running smoothly. Chevron's Thatcham depot services Highways England Area 3 (South of England), with the main contract seeing Chevron being enlisted as the sole Traffic Management provider for Kier Strategic Highways, Area 3 Asset Support Contract (ASC).