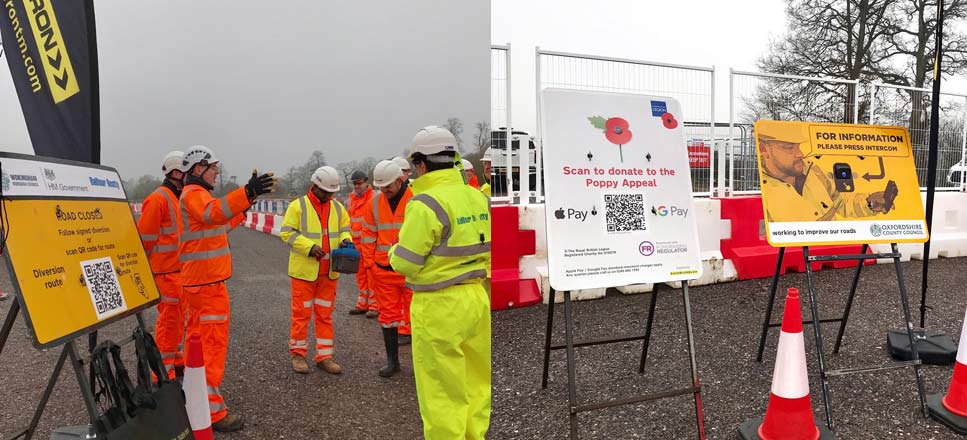 Chevron joined Balfour Beatty this week for their 'Boots on the Ground' event
THE EVENT TOOK PLACE IN WOKINGHAM, WHERE CHEVRON PROVIDE DIGITAL TRAFFIC MANAGEMENT SOLUTIONS AS PART OF THE MAJOR HIGHWAYS CONTRACT.
Chevron demonstrated how the use of technology enabled traffic management solutions can protect workers and the travelling public during the maintenance, repair and renewals of our roads.
INCURSION PREVENTION AND MITIGATION
The Incursion, Prevention and Mitigation (IPM) system significantly increases levels of safety for the workforce by detecting and alerting them to a breach in the work-zone. Motion sensitive Intellicone traffic cone lamps detect unauthorised movement and activate an audible alarm to deter the intruder from entering the work site.
Wireless monitoring of each work-zone enables all work sites to be viewed on a live operations map through our portal. The platform enables live and historic views across all locations. All incursion data is subsequently available and may be used to generate historical incursion maps and site-specific safety information prior to works taking place. These systems have been shown to reduce site incursions by members of the public by 50% whilst also increasing the working window.
MOBILE CUSTOMER SUPPORT TERMINAL
Also being showcased at the event was our Mobile Customer Support (MCS) Terminal. This digitally enabled interactive terminal provides members of the public with a method of seeking support and communicating with the site team, safely and without entering a work-zone via the simple push of a button.
The MCS Terminal is geo-located and self-configures when placed in the perimeter of a pre-defined work site. The terminal is fully rechargeable, can be quickly assembled by traffic management operatives and the information boards may be customised accordingly.
MCS Terminals are currently in use across the UK in different infrastructure projects. Their use has been shown to improve safety with members of the public less likely to enter a work site, and by reducing levels of aggression and confrontation against on-site personnel.
For more information contact Lisa Killinger, email lisa@chevrontm.com or phone 01844 354666