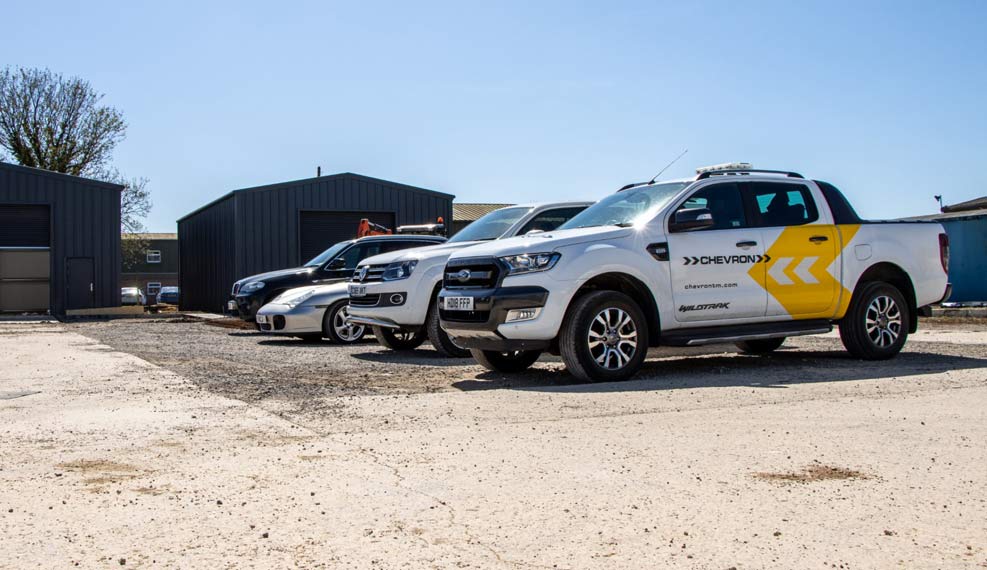 The Chevron Group invests in facilities, fleet and people
The Chevron Group is building a new purpose-built depot in Oxfordshire to support its ongoing growth plans.
Located in Stanton Harcourt, near Witney, the new depot will provide traffic management together with highways soft estates and arboriculture services to customers in utilities, rail, highways, local authorities and events sectors in the southern region.
"This is a significant step in our expansion plans," comments Matt Morphet, Chief Operating Officer of the Chevron Group. "The new Stanton Harcourt facility will be a key location from which we plan to grow our business in the Southern regions. We already have a strong customer base in the area which will benefit from a more streamlined service and we will now have additional capacity to take on additional clients."
The Chevron Group is the largest independent traffic management provider in the UK which works in collaboration with its clients to keep road workers and road users safe, minimum disruptions from road works and deliver operational efficiencies.
"Our Stanton Harcourt depot will offer our full range of services across all our sectors," adds Matt. "We are well known and respected in the South, particularly for our work with local authorities and utility companies for whom we provide 12D street works. With the new depot, we will have the capability to provide 12A/B works for customers operating on highways and across the strategic road network.
We also have a successful events traffic management business in the region which will be based at the new depot. We have previously provided traffic management services for a range of events from global music festivals and sports events to local community activities. With COVID-19 restrictions easing, we are looking forward to working with our previous clients and supporting new clients in the post-lockdown world.
The Chevron Group has a growing highways soft estates and arboriculture business which has been boosted with the recent acquisition of Camps Highways Limited. This business will operate from Stanton Harcourt.
"We are really excited about the potential growth of our highways soft estates and arboriculture business services," continues Matt. "We offer a full range of services which includes highway soft verge maintenance, weed control, tree works and estate management and hedge and grass cutting. With a greater focus on biodiversity and environmental impact, our specialists can advise and manage clients' requirements in this area."
The Chevron Group also plans to roll out a fleet of new vehicles, some of which will be located at the new depot and others will be delivered to locations across the country.
"We are investing substantially in our facilities, fleet and equipment," explains Matt. "We have a fleet of new IPVs about to roll out to our depots and are currently adding to our traffic management hire equipment. Our most recent purchase was a supply of auto-green signals to support our drive towards digitalisation of traffic management and complement the digital products we provide in conjunction with our sister company HRS."
The Chevron Group recently announced a recruitment drive aimed at adding an additional 300 traffic management operatives to its operation. The new roles, which include fully qualified TM Operatives and TM Foremen have been created as a result of the Chevron Group's ongoing expansion and will be based at its 28 depots around the UK, including at Stanton Harcourt.
"The Chevron Group is a nationwide company with depots and offices located across the UK, but we operate at a local level," adds Matt. "Our employees live and work in the communities in which we operate and we are working hard to fill our new roles with candidates from within our local areas. Not only does this help provide local employment and economic support as the country starts to emerge from the COVID-19 pandemic, but from an operational perspective, it means that our employees are familiar with the road networks in which we provide our traffic management and highways soft estates and arboriculture service."
"The Chevron Group is growing in key sectors, securing bigger and more challenging contracts. With the growth of innovation and digital technology, we are integrating digital products into our traditional traffic management plans, giving our projects a new dimension. It is a really exciting stage of our growth. The ongoing investment in our facilities, fleet and people will set us up for continued growth in the future."