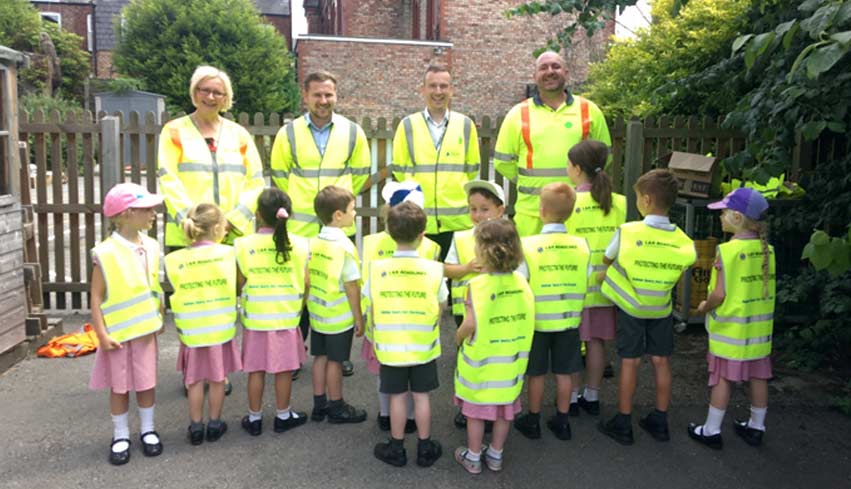 Chevron give school playground a makeover
Chevron as part of the Area 10 Team (BBMMJV, Chevron & L and R) step in to give school playground a makeover.
English Martyrs RC Primary School contacted BBMMJV in January 2017 to see if they could help with roadwork signage to enhance the school's construction themed play area. After liaising with the school, the Area 10 team went one step further with a complete playground makeover - Chevron donated an array of signs, including some traffic and construction themed for the different play areas in addition to providing Hi Vis Vests (complete with road safety slogans) for children and teachers to wear when venturing out of school grounds.
L and R not only refreshed the existing playground lining but also added new designs, produced by the school and its pupils themselves. On the day, some of the pupils had the opportunity to observe the sign installation and lining taking place and the chance to ask questions about the works itself.
The team were able to engage the local community and by doing so, contribute towards raising road safety awareness as well as creating some excitement and fun during playtime! Judging by the feedback received English Martyr RC Primary School were overwhelmed with the result:
"I cannot thank the team at Balfour Beatty Mott Macdonald, L and R and Chevron enough. Their generosity with materials and their time has been fantastic and has already resulted in lots of excited nursery children accessing the new road way and even experiencing their first traffic jam! The new road, signs and hi-vis vests will result in not only lots it's of enjoyment but will also aid in the teaching of road safety" – Nicola Maher, Teaching Assistant
"I am absolutely delighted with the enhancements Balfour Beatty Mott MacDonald, Chevron and L and R have made to our Early Years playground. Our children will benefit so much from the new road track that has been laid for us. Our budget would not have allowed us to create such an exciting environment and we are very grateful to the teams for coming in and providing the track and signage at no cost to us." – Carole Partington, Headteacher