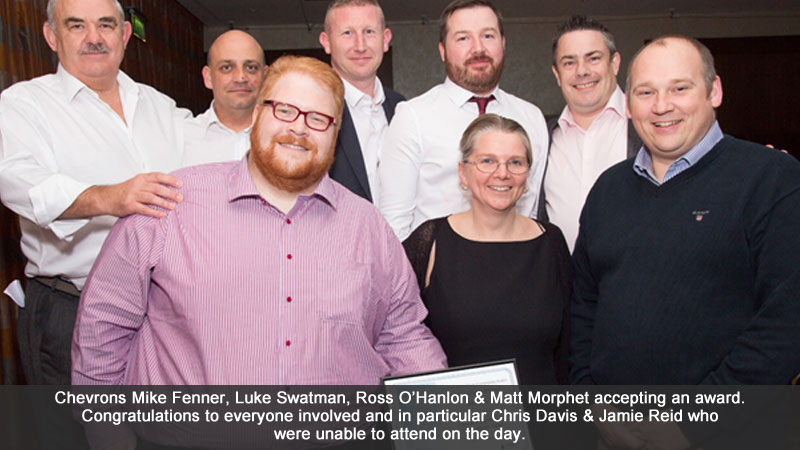 Chevron & the Area 3 TM Team celebrate success at the Kier Supply Chain Community Awards
Chevron was in attendance at the recent Area 3 Supply Chain Workshop and Awards Evening and we are pleased to announce that we came away with awards in the following categories-
Health & Safety- Winners, Kier Highways & Chevron Traffic Management
'The Project' Traffic Management Training Video's
'The Project' is a series of short training videos portraying our Traffic Management activities, which were made to showcase current practice and new techniques. The videos will provide our workforce with visual training guides that can be used during training, tool box talks and start of shift briefings, also providing non-operational colleagues with baseline awareness training.
Process- Highly Commended, Chevron Area 3 TM Team
Network Information Tool
The Network Information Tool is a first of its kind and has been created by the Area 3 TM Team along with Adam Tew to assist with the planning of Traffic Management. The document not only gives you the traffic flow data for the entire Area 3 network but also by selecting the road, carriageway and marker post location for the start of your works the Network Information Tool will give you the nearest safe taper location.
The Network Wall
This is an interactive tool which has proven to be very successful to the entire delivery team, it is a visual aid as to what is actually happening on the network.
From a cost and more importantly a Health and Safety perspective the team identified that there were many duplicate closures being installed in the same locations on the network.
With the creation of The Network Wall the team can now optimise opportunities where lane closures or full road closures can be utilised by other disciplines. This has not only made considerable cost savings and efficiencies but has also resulted in the following:
Reduced exposure time for the Traffic Management Operatives
Less manual handling for the crews
Less Traffic Management on the network.
Less risk and impact to the travelling public
Highways England Recognition Award, Kier, R&W, Chevron, Hanson & WJ Lining
Chevron were also awarded as part of the team that carried out ECI for M4 slip roads Junctions 7 & 8 schemes.