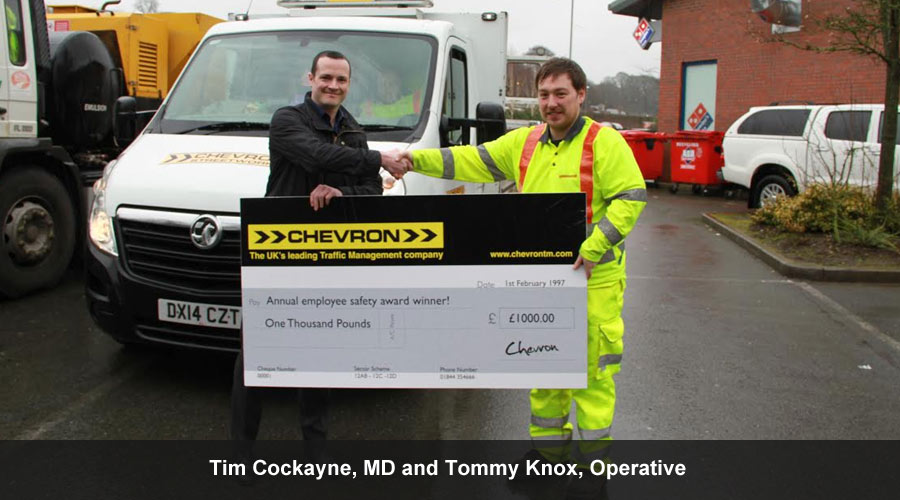 Chevron's Annual Employee Health and Safety Award 2015
Congratulations to Tommy Knox, TM Operative (Rochdale), who has been awarded Chevron's Annual Employee Health and Safety Award 2015.
This is in recognition of the high standards of safety that Tommy has demonstrated throughout the year; not least for his part in assisting a distressed member of the public who had been the victim of a 'hit and run' road traffic collision but also his continued high regard for the safety of others.
Tommy received Chevron's Monthly Health and Safety Award, alongside Adam Leatherbarrow, for his response to the hit and run incident. He also received a Monthly H&S Award in September for his calm and professional approach on a StreetWorks job after politely refusing a contractor's request to finish a job quickly and compromise safety standards. 
Tim Cockayne said: "Tommy reflects Chevron's In Safe Hands approach through his ongoing commitment to maintaining the highest safety standards. He is very deserving of this award."
How the awards work
To promote our 'In Safe Hands' approach and identify those who maintain the highest safety standards, we introduced the monthly and annual health and safety award schemes in 2011. 
Each month a H&S award, along with £100, is presented to an individual who has made a significant contribution to the safety of our TM crews, the clients and contractors we work with and members of the travelling public. Following this, our Health and Safety Manager, Christopher Rowley, and directors, review all the monthly awards and decide an annual winner overall, who also receives a £1000 cheque.