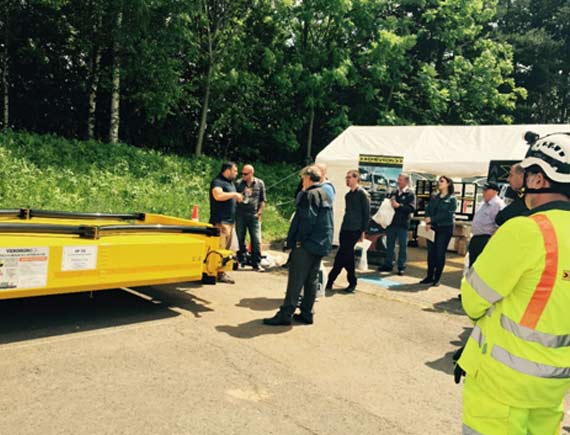 Area 9 Health and Safety Week
Chevron Traffic Management, as part of the Kier Strategic Highways Area 9 supply chain, took part in their recent annual Health and Safety week.
The event, held at Stafford Park, Telford, between 15th & 19th June saw a cohort of Area 9 employees and supply chain representatives in attendance. The Fire Service and Traffic Officers also took part with daily demonstrations and even the local Mayor dropped by on the final day of the week to get in on the action; accompanying a number of local school children to the event helping to educate the youngsters about road safety.
Depot Manager Karl Exall, Area 9 Delivery Manager Cengiz Guner and HTM's Marcus Casey were running the Traffic Management demos every 15 minutes- along with help from leading TM Operative Ian Parsons.
Joined by our key supply chain members HTM, Chevron's presence at the event included a demonstration of our 'alternative taper', inviting spectators to have a go themselves; alongside HTM displaying the benefits of their new award winning low level Traffic Management vehicle. All in all, a fantastic week highlighted the importance of Health and Safety engaging with the local community, as well as all of the Area 9 Highways staff that were present.