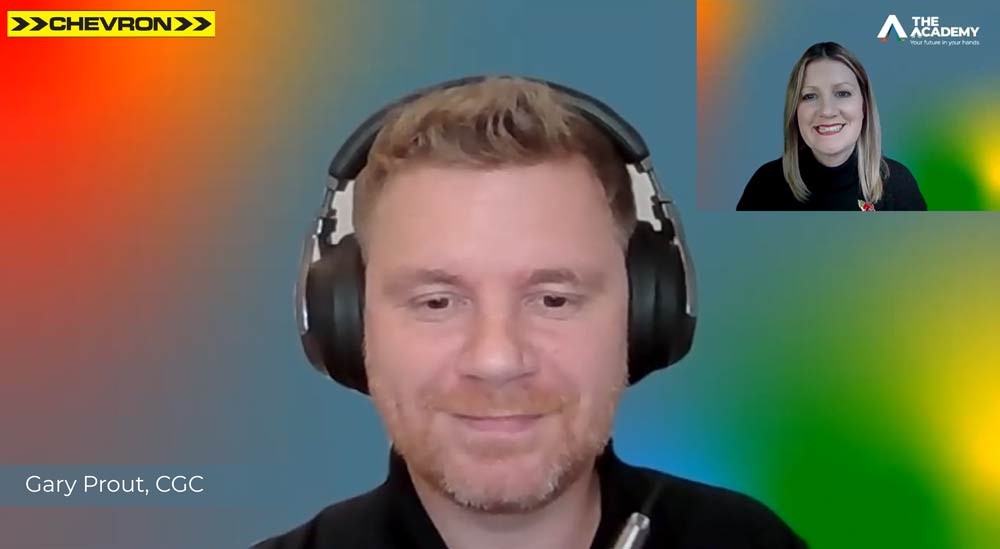 "Better Never Stops." Guest Speaker Gary Prout joins our latest Spotlight Session
"Better Never Stops." This was the message delivered to employees of Chevron Group by former soldier, Gary Prout, holder of the Conspicuous Gallantry Cross which he received for his bravery during a tour in Afghanistan.
Gary, now part of the team at Cleartrack Performance, was invited to speak to employees of the work zone safety company as part of its employee learning and development strategy.
Speaking after the event, Claire Brough, Knowledge and Skills Manager commented: "The Chevron Group recently launched a tailored learning and development platform, The Academy, as part of our continued investment in our people. The Academy is designed to provide employees with access to mandatory and non-mandatory training programmes to allow them to progress their careers within Chevron Group.
Within The Academy, we believe that learning comes in many forms. As well as formalised training programmes, learning can happen through listening to other people's experiences, taking lessons from them and implementing them in a work or personal capacity. We therefore decided to bring in external speakers and were delighted to secure a speaker of the calibre of Gary Prout for this session.
Gary's military experience was steeped in teamwork, leadership and belief in potential which are qualities that we want to reflect within our business. We were able to learn so much from Gary from an employee and business context."
At Chevron Group, we believe we have the best people in the business but as Gary said, "better never stops." Through our Academy, we are investing in our people to ensure they remain the best.
For information contact Lisa Killinger, Group Marketing and Communications - email: lisa.killinger@chevrontm.com or call: 01844 354666