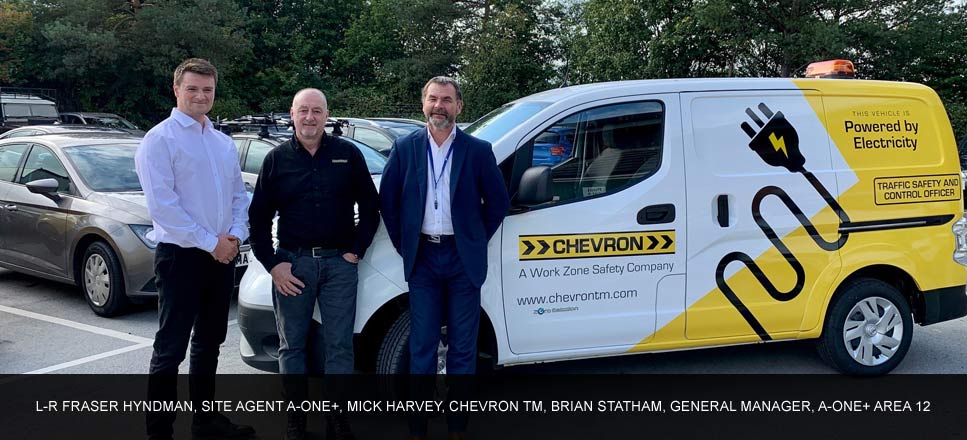 Reducing Carbon Through Collaboration
Everyone has a role to play in reducing our carbon emissions in construction. When A-one+ Area 12 approached Chevron TM about finding innovative ways to reduce their carbon footprint on site, our northern operations director suggested electric vehicles as a potential solution.
The Benefits of Electric Vehicles
Electric vehicles offer zero carbon emissions whilst driving, no engine noise and reduced downtime for maintenance as there are fewer moving parts. By adopting electric vehicles for site activities, both A-one+ and Chevron TM would be making progress towards their ambitions for carbon reduction while helping deliver schemes more efficiently. After discussing the types of vehicles used most often on site – such as impact protection vehicles (IPVs), pick-up trucks and vans – we agreed to see what options were available that would make the biggest impact on site.
The Nissan E-NV200 Acenta fully electric van was the most promising electric vehicle, having been used in other sectors successfully. Nissan have also adopted a whole life cost approach, using recycled materials to construct the car as well as providing options for car and battery re-use and recycling at the end of its life. With over 4m³ of cargo capacity, the vans have ample capacity for equipment storage required by our supervisors and traffic safety and control officers whilst operating on site.
Working Together for Results
As this make of van would achieve everyone's aims, Chevron TM and A-one+ agreed to introduce two of the EV200 E-NV200 Acenta vans for use on A-one+ projects in Area 12 Yorkshire and Humber, from September 2019. Chevron TM will be monitoring the performance of the vehicles to determine how long the batteries will last under our normal working conditions, as well as measuring the benefits the vans bring to our business, A-one+ and Highways England. Overall, the vans will help reduce Chevron TM's carbon footprint, while also reducing running and maintenance costs and vehicle downtime.
Dennis Gregg, Northern Operations Director, Chevron TM said: "Working together with our partners to reduce site emissions is the only way to ensure that we construct responsibly and in the eco-friendliest way possible. The introduction of these fully electric vehicles into the Chevron TM fleet is the start of our journey in ensuring we achieve significant reduction in carbon footprint."
Paul Swann, Construction Manager, A-one+ said: "We are always looking for ways to lessen the environmental impact of our work and introducing electric vehicles as part of our day to day site operations should really make a difference to our carbon reduction commitments. Collaborating with forward-thinking, like-minded partners such as Chevron TM allows us to bring about innovation for the greater good. We are looking forward to seeing and reporting the results of this fantastic new addition to the fleet."