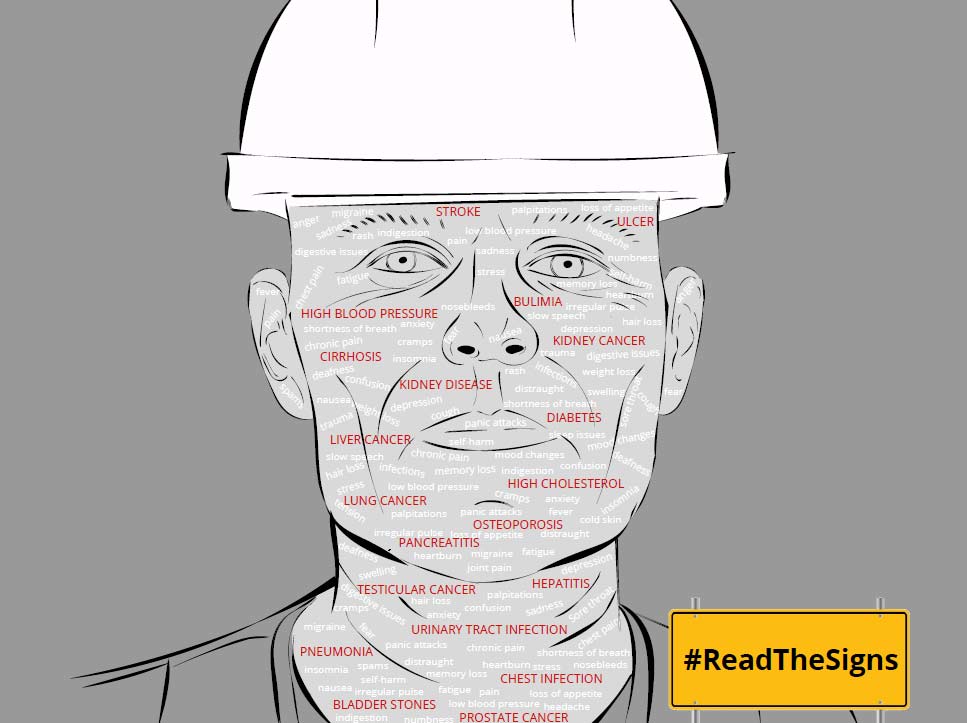 Men's Health Week 2020 #ReadTheSigns
Last year's men's health campaign, #Let'sTalkB*ll*ks continues to inspire us and encourage men to strike up a conversation about their own physical or mental health. This year we are encouraging men to #ReadTheSigns and take action over their health by raising awareness of various symptoms and talk to their doctor.
Some men can find it hard to address health issues and might not always be aware of how much of a risk a health issue can pose. This year's campaign - #ReadTheSigns – is intended to raise awareness around men's general health and encourage people to reach out for professional help where needed.
At Chevron, we are passionate about employee health and wellbeing. We recently saw the launch of our online Wellbeing Hub. The Hub is available to all and periodically updated with health information alongside advice, facts, and awareness campaigns. As #Let'sTalkB*ll*ks made such an immense difference, this year's #ReadTheSigns aims to be as successful by actively encouraging men's attitudes concerning their general health, mental health and overall wellbeing.
Wellbeing Hub Introduces 'Men's Health'
The Wellbeing Hub provides information and understanding by creating a special section for men - Men's Health. It contains information about health and various conditions (such as cancer and other diseases) providing information regarding symptoms, signs, and advice. The information focuses on lifestyle changes, self-care, nutrition, and raising awareness about the effects of smoking and alcohol. The Men's Health section also provides resources to address these lifestyle risk factors and highlights how self-care, nutrition and lifestyle can affect both physical and mental health.
#ReadTheSigns encourages men to reach out and talk about their symptoms and concerns to increase the awareness of general health problems that could be prevented and treated if they are detected in time.
Chevron employees have access to a free and confidential Employee Assistance Programme'. This excellent service is available to all, staffed 24 hours a day, all year round. Immediate family of employees can also access this service, which offers advice on many topics such as health, mental health, financial or family issues, as well as confidential counselling services. Furthermore, all depots across the country have Mental Health First Aiders, who are professionally trained to provide support and guidance for their colleagues, maintaining a confidential and safe place for them to share their concerns.
Maria King-Smith, Head of Health and Safety, told us: "How we think, feel, behave and engage with others is affected by our health – whether it be mental, physical or emotional – which is why I feel so passionately about our men's health campaigns. Unless we have good mental, physical and emotional health, we cannot function to the best of our ability on a day-to-day basis. For this reason, we consider health to be of the same significance and value as safety."