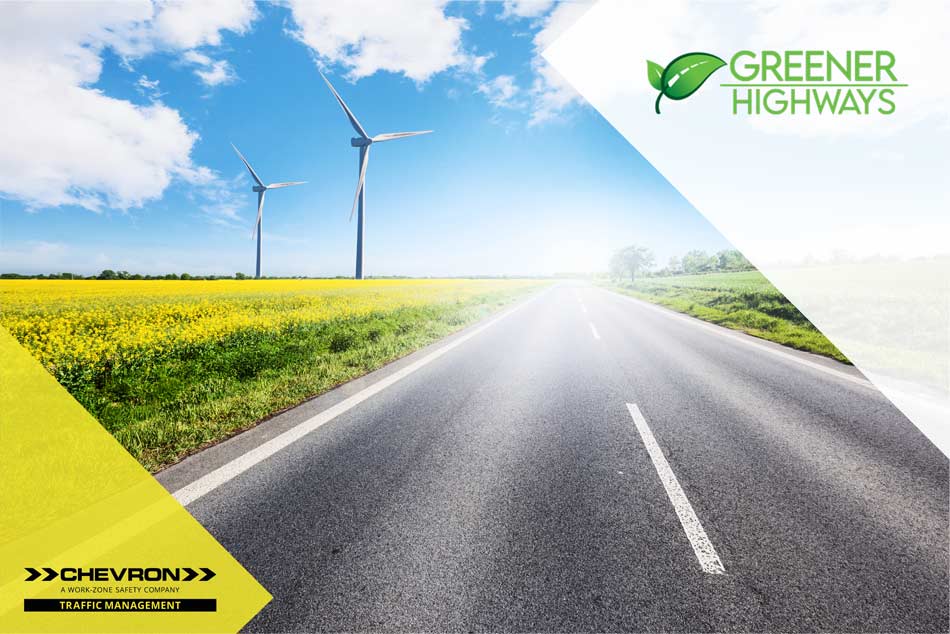 Chevron Traffic Management commits to sustainability as newest member of Greener Highways
Chevron Traffic Management has demonstrated its commitment to sustainability by becoming a member of Greener Highways, joining the collaborative charge towards net
zero.
Greener Highways is a membership organisation set up to unite a sector in the battle against the ongoing climate crisis. It aims to help with the education and implementation of sustainable initiatives, products, services and operations across the highways sector.
In order to achieve this, Greener Highways will showcase the contributions of its members towards a cleaner, greener future. Greener Highways aims to tackle the climate emergency together by looking at areas such as energy, transport, wildlife and waste, with further aim to build best practice relationships between businesses to encourage faster changes towards long-term sustainability.
As part of a huge highways community, Greener Highways sees the environmental impact of the sectors' business activities and realises that companies need to address increasingly serious environmental problems such as climate change, resource depletion, carbon footprints, and pollution.
Chevron Traffic Management has opted for Greener Highways membership as it shares the mission and aims of the organisation. Chevron TM believes in a cleaner, greener future in an industry that can make a monumental difference with its carbon reduction. Chevron TM works within the Utilities, Rail, High-Speed Network, Local Authorities and Events sectors, providing physical and digital traffic controls to ensure that roadworks are carried out safely and that road workers and road users are safe.
Chevron TM has been focused on sustainability for many years, having implemented ISO 14001 Environmental Management in 2017 and ISO 50001 Energy Management in 2019 and has implemented projects such as rainwater harvesting and the installation of LED lighting. It has also partnered with ClimateCare to offset unavoidable carbon emission by supporting projects that decarbonise grid electricity in India and protect a significant and vital carbon sink in the Gola Rainforest National Park, Sierra Leone.
Jamie Bowen, Head of ESG said: "The urgency of the climate crisis is becoming increasingly apparent, and at the Chevron Group, we recognise that we need to set ambitious targets to take positive climate action. We recently announced our commitment to set science-based targets and are currently finalising our net zero strategy, which will be published in 2022. A key focus area for the Chevron Group is investing in innovative technology and digital solutions that aim to eliminate unnecessary carbon from existing temporary traffic management processes within the wider traffic management industry, and we are working closely with our digital partner, HRS, to do this."
"We see our membership of Greener Highways as another tool in our armour to drive climate change, not just in our own organisation but across the wider industry. Only through true collaboration can we deliver a low carbon economy and a greener future."