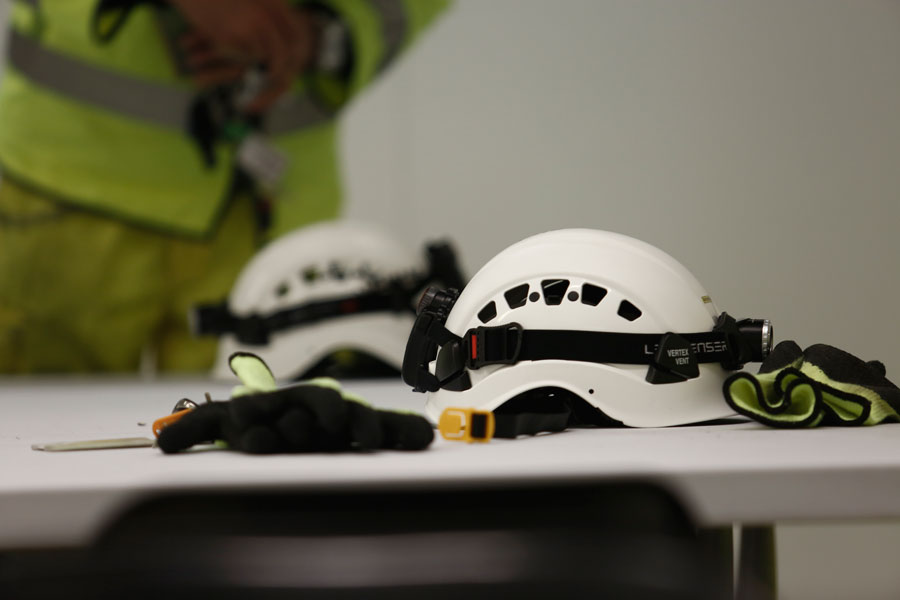 Chevron & Petzl Safety Helmet… 5 years on!
This year see's the 5th anniversary of Chevron using the Petzl safety helmet; In 2012, the Petzl Helmet was issued to all our operatives as part of their PPE.
The story… It was initially suggested by one of our employees that we should look at a better solution for our safety helmets. We began consultation across the workforce involving our operatives and management team.
Having reviewed the options available on the market at that time and conducting several on-site trials, it became clear that there was no suitable head protection currently available to our industry equipped to solve the issues experienced i.e. losing helmets in adverse weather conditions and whilst bending down etc.
So, we took the innovative approach to looking outside of the traditional suppliers to other industries that required protective helmets. This led us to looking at the leisure industry and in particular rock climbing and caving helmets. We very quickly identified the French company Petzl as being the leading supplier in this market, and could work with them to adopt the Vertex helmet as out standard headwear.
The benefits… The protection and comfort these helmets provide our operatives:
Excellent protection
Shock absorption achieved through deformation of the outer shell
Strong chinstrap limits the risk of losing the helmet during a fall
Very comfortable to wear
Six-point textile suspension conforms perfectly to the shape of the head
CenterFit adjustment system adjusts the headband and keeps the helmet centred on the head
Vent holes with sliding shutters allow the ventilation to be adjusted as needed, while wearing the helmet
Comes with two sizes of headband foam
Many accessories are available to adapt the helmet to its use
Side slots for mounting a face shield and/or standard hearing protection
Designed to accommodate integral head torch and hearing protection
Single adjustment wheel adjusts the headband size, chin strap position can be adjusted forward or backward, position of straps around the ears can be adjusted
5 years on… with no reported incidents involving head injuries to date, we can safely say that we are as proud that these helmets now as we have ever been. They are now being adopted across the industry and have been identified as best practice among many of our clients and supply chain alike.