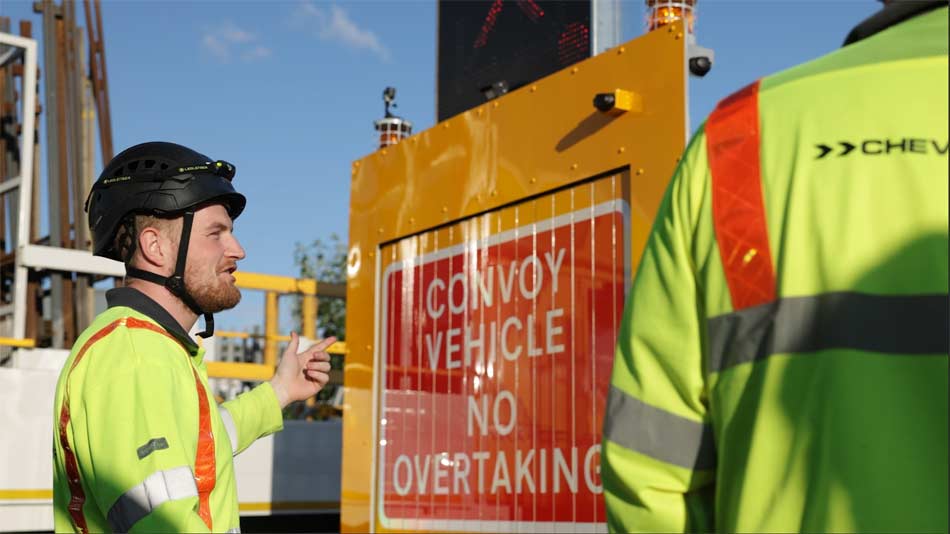 Carriageway work – it doesn't have to be this way
Keith Smith recently took part in an interview with Highways Industry on how the world of traffic management is innovating and changing for the better, making the lives of road workers and road users safer.
"The world as we have created it is a process of our thinking. It cannot be changed without changing our thinking." Albert Einstein
For Keith Smith, Chief Engineer for the Chevron Group, his world is traffic management. His mission is to change how we think and how we design and implement traffic management, with the ultimate aim of improving road user safety, providing better experience at roadworks by the implementation of correct engineering, supporting people with additional mobility needs whilst also reducing our carbon footprint and finding operational efficiencies and improvements.
We caught up with Keith to find out what has been happening in the world of traffic management.
"Traffic management is a strange beast in some ways. There are times when it feels like things never change or that change is slow and tortuous but then we look back and see how far we have come in the past 10 or 20 years, we realise that change does happen and when it does, it makes a real difference. For example, look at how safety has improved.
"Simple changes like improved PPE or complex, technical changes like the use of digital technology to create work-safe geozones are ensuring that road workers go home safe to their families at the end of each shift. And at the end of the day, we should all be aiming for this and looking at how we continuously improve our customer service to road users and the construction workforce. If we still think of roadworks in the same way as we did it in the 1990s, we will always struggle with safety, incursions and maintaining traffic flow on our network in the 21 st century."
What's currently on the horizon for traffic management?
"We are seeing some really exciting improvements to how we can deliver temporary traffic management on the network with contractor-operated Mobile Carriageway Closures (MCC) becoming available, which we believe will be a real game-changer for how we deliver and manage safety at highways works on motorways and dual carriageways. Chevron Traffic Management has led a trial for a new technique for an Enhanced Mobile Carriageway Closure (EMCC) which has been accepted by National Highways as a method and is now available to traffic management providers for creating traffic-free environments on carriageways on their network.
"Essentially, the EMCC technique allows traffic management contractors to deploy an agile vehicle displaying an authorised sign to create a traffic-free environment for a short period of time. The van is equipped with an incursion warning system to alert workers of errant vehicles entering the work zone. The EMCC can be deployed during operations including the installation, maintenance, switching, or removal of traffic management systems. This includes supporting works operations that require short periods of traffic-free time. Ultimately, it provides an alternative to the use of rolling roadblocks when delivering planned roadworks projects."
This is quite a change to how things are currently done. How has this come about?
"We did what Albert Einstein said to do. At Chevron Traffic Management, we went back to basics and considered the engineering, and changed our thinking on how and why we do things. We simply couldn't go on making temporary traffic management (TTM) operations more complex by considering elements of the process in isolation. We had all the elements we needed to enable us to do this. We just needed to rethink about how we could pull them together to deliver roadworks more efficiently with improved safety and customer experience.
"The use of an MCC to create a traffic-free environment has been available to providers since the publication of Traffic Signs Manual Chapter 8 in 2006, but it required scarce and expensive resources which made the technique impractical and therefore it was never adopted.
"We collaborated with HRS, who really are leading the way in delivering digital change to the industry, and looked at their IIPAWS® (Intellicone® Incursion Prevention & Warning System). We were able to consider the MCC technique as well as the Convoy Control Vehicle technique which was approved in 2014, and enhance it with IIPAWS®. In 2019, we began a series of self-funded EMCC trials in conjunction with Costain. Our focus was to create short, traffic-free environments for work sites which were impacted by high traffic volumes, specific site features or works activities while improving safety standards, reducing disruption to customers and simultaneously minimising risks to road workers and road users with increased working windows to improve delivery."
So, who benefits from this new technique?
"EMCC benefits everyone – contractors, TM providers and road users. It even benefits the environment.
"For the TM provider, there is no lost time organising and waiting for a rolling roadblock, which frees up those resources. EMCC gives direct control to the TM provider and contractor to start a rolling roadblock as soon as conditions allow or the requirement occurs. The trials have also shown that the EMCC can be safely activated at a higher traffic count which allows works to commence at a known time.
"For the contractor, this new technique gives them more control over their works schedule because we can provide a known and certain start time and give them a longer working window. This takes pressure of their timeframes and their workers, and reduces the risks to those operations. It can also allow some works to move from night works to daytime works which has obvious benefits. To give you an example, we ran an EMCC for a client who needed to carry out crane works adjacent to an A road. These works were scheduled to be done at night but by deploying an EMCC, the client was able to reschedule them to daytime works and avoid closing the road over several nights, reducing cost and improving worker safety, in addition to eliminating environmental impact of diversions.
"For the road user, we can eliminate the need for diversions which often take them onto unfamiliar side roads when they are possibly tired or have had a long day. This reduces stress levels and minimises the chance of getting lost or frustrated with the works. With the EMCC, drivers stay on the carriageway, follow the EMCC vehicle at a slower and controlled speed for a short period of time and then pick up their speed when the EMCC has ended, and the control vehicle has moved off the carriageway. Our trials established that with the EMCC system, the delay to road users is between 3- 5 minutes which is significantly less than a diversion onto a trunk route.
"If we go back to our client on the A road, using this technique avoided having to divert over 10,000 road users through local roads during their crane operations.
"And of course, every eliminated diversion reduces miles travelled which will ultimately reduce carbon emissions on every shift, benefitting the environment."
When can we see the new EMCC technique in action?
"It is already in action. Chevron Traffic Management and Costain carried out a series of trials on two- , three- and four-lane carriageways. Based on the outcomes of these trials, National Highways has accepted EMCC as an available technique for use on their roads.
"By August 2022 we had performed over 1,200 Enhanced Mobile Carriageway Closures, all of which have been very successful and very well received by on-road operatives and contractor staff. We experienced only five incursions which were captured by the vehicle-mounted CCTV cameras and mitigated by the IIPAWS® system which alerted the workforce ahead.
"The new EMCC trial project is an excellent example of how we delivered change by working collaboratively in an honest, open and enjoyably creative manner, and underpinning everything with traffic engineering theory. Chevron TM worked with Costain to conceive and develop the concept and engaged with National Highways technical leads and specialists to refine and develop the test programme, reviewing, modifying and retesting this new way of working to improve safety, delivery and customer service for contractors, TM providers, road users and our planet. It also better utilises the finite resources available in responder organisations, providing another route to ensuring that everyone gets home safe and well.
"I believe that EMCC is a better, more efficient and safer way of working."
About Keith Smith
Keith Smith is a professional engineer with a general highways engineering and construction background and is a leading practitioner and authority in temporary traffic management engineering and roadwork design, lecturing, researching and proactively supporting the Chevron Group and other industry organisations to implement improvements in their operational functions. Known for his collaborative and open and honest conversations, he has been at the forefront of developing learning and new techniques in the industry for nearly 30 years.
Find out more about Enhanced Mobile Carriageway Closure.