Chevron TM has delivered bespoke traffic management solutions to utility companies for more than 15 years. This collaboration means that we can provide the flexibility to meet on-site requests, deliver the level of responsiveness and build confidence in our reliability that clients have come to depend on.
Whether you are implementing critical services or reacting to unexpected problems such as burst water mains or pipe leaks, Chevron TM has the resources, responsiveness and expertise to provide traffic management plans to allow your works to take place.
From consultation on project requirements to advising on possible options and implementation, we work with you to identify the best traffic management configuration that delivers safety to your work-zone, captures vital site information, reduces costs and deters breaches into the traffic management area.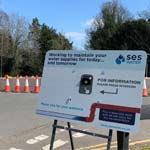 SES Water
When a burst water main on the A217 in Banstead, Surrey required a carriageway closure, Sutton and East Surry Water (SES Water) turned to Chevron TM for help. We implemented a cost-effective digital traffic management solution to ensure the safety of their workforce, provide information to local residents and traffic, and reduce the impact on road users.
Download the SES Water case study (PDF) to find out more >