Essential railway maintenance or unplanned works can cause significant disruption to timetables, journey times and passenger experience, as well as putting the safety of workers and the general public at risk while the works are carried out.
Professional traffic management, planned in collaboration with client needs will minimise disruptions to timetables and passenger journeys, accelerate the duration of the works and ultimately protect your workers and the general public.
As the rail network undergoes infrastructure and signalling upgrades, Chevron TM works closely with rail clients to deliver trusted, bespoke traffic management solutions. This allows the client to focus on completing the works with minimal risk of incidents or road closure breaches while maintaining public safety.
In addition to services that cover signalling, traffic light systems, diversions and bespoke signage for works that typically take place at level crossings, rail bridges and footpaths, Chevron TM offers innovative, bespoke digital solutions that help reduce the number of incursions via an early warning system to the workforce. Our digital solutions also integrate with our clients' own planning system to increase efficiencies and support information updates to road users.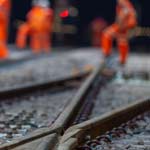 Network Rail
To combat the rising number of road closure breaches by the public – which have the potential for loss of life to the individual, workers or rail users – Chevron TM together with digital specialist HRS developed a bespoke safety system that helps reduce the number of incursions by alerting the workforce of any breaches so that action can be taken quickly. We also developed an enterprise planning system which helped improve back office efficiency.
Download the Network Rail case study (PDF) to find out more >