Traffic management is an essential service supporting the rail industry's goals to prioritise passenger and workforce safety alongside keeping timetables running in the event of disruptions, unexpected delays or planned works.
As the rail network undergoes infrastructure and signalling upgrades, Chevron TM works closely with rail clients to deliver trusted, bespoke traffic management solutions that allow the client to focus on completing the works with minimal risk of incidents or road closure breaches while maintaining public safety.
In addition to services that cover signalling, traffic light systems, diversions and bespoke signage, Chevron TM offers innovative, bespoke digital solutions that not only help reduce the number of incursions via an early warning system to the workforce but also integrate with our clients' own planning system to increase efficiencies and support road users updates.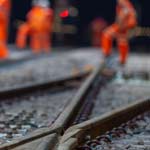 Network Rail
To combat the rising number of road closure breaches by the public – which have the potential for loss of life to the individual, workers or rail users – Chevron TM together with our sister company HRS developed a bespoke safety system that helps reduce the number of incursions by alerting the workforce of any breaches so that action can be taken quickly. We also developed an enterprise planning system which helped improve back office efficiency.
Download the Network Rail case study (PDF) to find out more >
View all Chevron TM case studies