Health, Safety and Wellbeing
Meet our International Health, Safety & Wellbeing Ambassador
At Chevron, we place the health, safety and wellbeing of our staff as a priority. Safety is embedded in our culture and in our company values: "Safety is our business".
In recognition of this, Aisla Edwards from our People Team has been awarded Health, Safety and Wellbeing Ambassador of the Year joint winner in the British Safety Council 2021 International Safety Awards. Find out more about Aisla and her role at Chevron.
Ailsa Edwards - International Health, Safety & Wellbeing Ambassador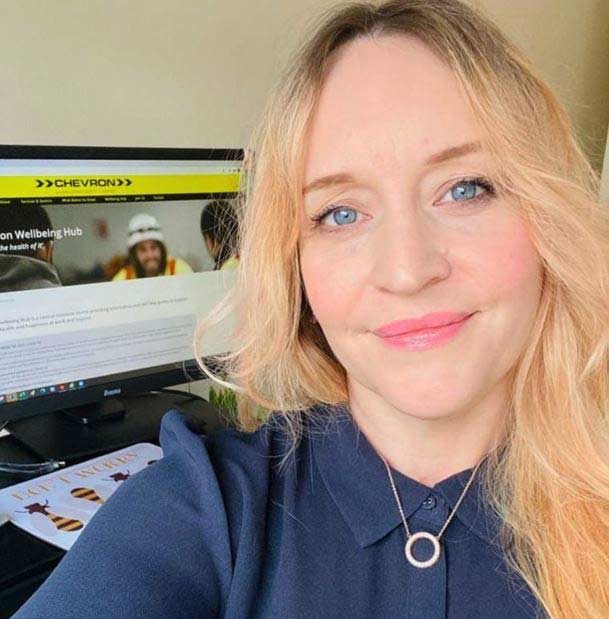 Ailsa Edwards is an HR Advisor in Chevron TM. She provides the business with correct and relevant advice on HR issues and looks after employee wellbeing. Her role took on added significance in 2020 as the world was gripped by the COVID-19 pandemic.
Ailsa took responsibility of navigating through the constantly changing advice and legislation and reporting to our management team. In the early days of the pandemic this was a very fast-moving situation which Ailsa handled professionally and with aplomb.
Communication to the wider workforce was critical during the early days of the pandemic. Ailsa managed twice weekly calls with H&S representatives and Operations Managers to update them on the latest advice and respond to questions and concerns from the workforce.
A significant component of our COVID-19 action plan was the creation of our Wellbeing Hub, an online resource that was available to the workforce, families and our supply chain which Ailsa delivered. The hub provides information on number of topics such as tips for home workers, furlough, building resilience, dealing with debt, grief, emotional and physical health, domestic violence and tips for managers for managing their teams remotely. The Hub was a huge success and has been further developed through our learning and development platform, The Academy, to also provide home-schooling resources for those parents within our workforce having to manage that additional stress.
As things started to relax and returning to work in the office was possible, Ailsa developed Back to Work packs, for those home workers, shielding employees and furloughed employees, who had been out of the business to advise and reassure them of the controls put in place at depots and offices to ensure everyone's safety.
She also created a process for employees to have one-to-one discussions with their managers if they had concerns about returning and the steps, we would go through to reassure them. The Back to Work packs were issued with hand sanitiser to reinforce the message that the virus was still out there, and we needed to do everything to protect ourselves and others.
All of this work was done, while Ailsa carried on with her regular day-to-day job of dealing with HR issues, occupational health referrals, mental health concerns as well as supporting her own team through the pandemic.
Ailsa has made an enormous contribution to ensuring the wellbeing of our employees during COVID-19. She hugely deserves to be overall Health, Safety and Wellbeing Ambassador of the Year joint winner in the British Safety Council 2021 International Safety Awards.
Mr Mike Robinson, Chief Executive, British Safety Awards told Ailsa: "The awards recognise and celebrate organisations from around the world which have shown a true dedication to keeping their workers and workplaces healthy and safe over the last year. Nominations came from 292 organisations of all sizes and sectors, including business from the UK, Africa, Asia, India, mainland Europe and the Middle East.

The long list of winners of the International Safety Awards shows that an increasing number of companies are embracing the management of health and safety risks as an enabler of business, benefiting people, companies and society but none more so than you as a joint overall winner. You have shown a true alignment with the vision of the British Safety Council that no-one should be injured or made ill through their work – anywhere in the world.

My warmest congratulations to you as overall 2021 Health, Safety and Wellbeing Ambassador of the Year joint winner. You should be truly proud of your achievement."